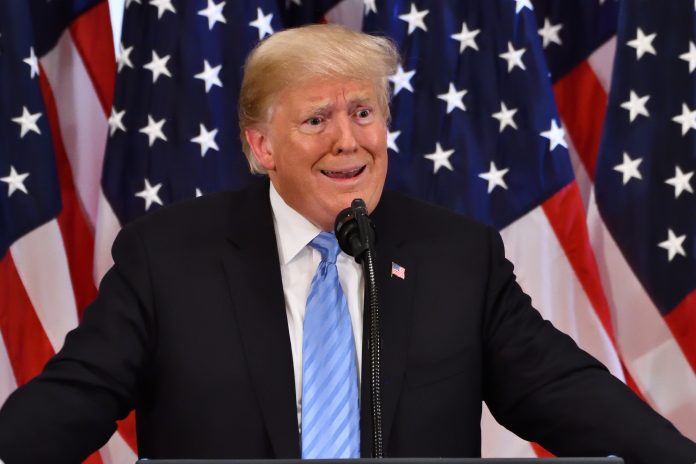 Donald Trump has called Borat actor, Sacha Baron Cohen a "creep" after the release of Borat's new film.
'Borat Subsequent Moviefilm: Delivery of Prodigious Bribe to American Regime for Make Benefit Once Glorious Nation of Kazakhstan' was released last Friday. It is available to stream on Amazon Prime Video.
The scene in question is when former Mayor of New York and Trump's personal lawyer Rudy Giuliani is being interview by Borat's '15 year old daughter turned journalist', Tutar, played by Maria Bakalova.
Giuliani is seen lying on his bed and putting his hand down his pants. The two decided to have a drink in a hotel bedroom after the fake journalist interviewed Giuliani. Borat rushes into the room in women's clothing trying to protect his daughter, leading to Giuliani storming out and Borat making jokes about 'Golden Showers', which is a reference to what Donald Trump allegedly did in a Moscow Hotel.
Speaking to the press, Trump said of the film "That's a phony guy. And I don't find him funny. To me, he was a creep." When asked about his encounter with Cohen's other character, Ali G, Trump said, "Years ago, you know, he tried to scam me," And I was the only one who said 'no way." You can watch Trump and Ali G in this report released by Radio Nova last week.
In response to Trump, Cohen replied "Donald—I appreciate the free publicity for Borat! I admit, I don't find you funny either. But yet the whole world laughs at you. Cohen went on to add "I'm always looking for people to play racist buffoons, and you'll need a job after Jan. 20. Let's talk!"
In a Good Morning America interview, Cohen was quite clear on the scene involving Giuliani. "If the president's lawyer found what he did there appropriate behaviour, then heaven knows what he's done with other female journalists in hotel rooms. I urge everyone to watch the movie. It is what it is. He did what he did. And make your own mind up…It was pretty clear to us".
In another twist in the story, Borat, took to his Twitter to defend Giuliani. "What was an innocent sexy-time encounter between a consenting man and my 15-year-old daughter has been turned into something disgusting by fake news media. I warn you: anyone else try this and Rudolph will not hesitate to reach into his legal briefs and whip out his su-penis."
OFFICIAL STATEMENT FROM BORAT SAGDIYEV pic.twitter.com/vM92Lam5vV

— Borat (@BoratSagdiyev) October 23, 2020