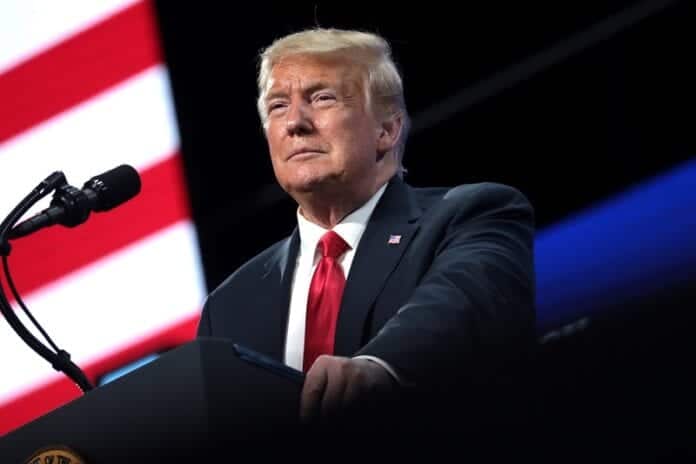 Donald Trump has hinted at a run for office in 2024 in his first public appearance since Joe Biden was inaugurated.
The former president made his first speech since leaving The White House at the right wing convention Conservative Political Action Conference (CPAC) in Orlando last night.
Trump still claims that he won the election and was fraudulently denied his victory.
The twice impeached former president spoke for around 90 minutes to a welcoming audience.
He told the audience that he won the election and hinted at a run in 2024 when he said "I may even decide to beat them for a third time."
It was clear to see that Donald Trump enjoyed CPAC as he has been banished from social media and has only conducted a few TV interviews since leaving office. He told the crowd he still intends to remain in politics.
"I stand before you today to declare that the incredible journey we began together four years ago is far from over."
He then denounced President Joe Biden and his administration.
"We all knew that the Biden administration was going to be bad – but none of us imagined just how bad they would be, and how far left they would go… Joe Biden has had the most disastrous first month of any president in modern history."
"Biden's radical immigration policies aren't just illegal – they are immoral, they are heartless, and they are a betrayal of our nation's core values."
He continued his America first policy and said "We believe in standing up to China, shutting down outsourcing, bringing back our factories and supply chains, and ensuring that America, not China, dominates the future."
Elsewhere in his speech, Donald Trump claimed transgender athletes are ruining women's sports and put pressure on President Biden to reopen schools.
He also said that any notion of setting up his own political party was "fake news."
Many political commentators had speculated that Trump could set up his own party and cause further division within the Republican party. Despite some Republican party members voting to impeach Trump, he still believes in the party.
"The only division is between a handful of Washington DC establishment political hacks, and everybody else all over the country."
"We're not starting new parties. We have the Republican Party. It's going to be united and be stronger than ever before.I am not starting a new party."
According to a poll taken at CPAC, 55% of republicans would vote for Trump in the 2024 race, with Florida Governor Ron DeSantis in second place with 21%.
The last weeks of Trump's presidency was marred by the insurrection that took place in Washington.
Last month, his failed casino in Atlantic City was demolished and you can see the footage and Radio Nova's report here.