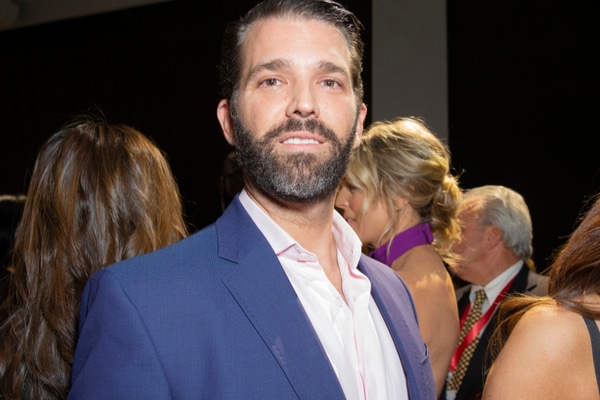 Donald Trump's son, Donald Trump Jr is selling T-shirts referring to Alec Baldwin's fatal shooting on set which led to the death of cinematographer Halyna Hutchins.
Along with Hutchins, director Joe Souza was also injured in the shooting. He was discharged.  More on this here.
Baldwin has also said that his "heart is broken for her husband, their son, and all who knew and loved Halyna".
Trump Jr T shirts say Alec Baldwin "kills people"
Following this, it appears that that the son of the former US President Donald Trump, Donald Jr who has been a long term critic of Baldwin, has used this situation to his advantage.
Trump Jr has taken to Instagram to share a T-shirt which says: "Guns don't kill people, Alec Baldwin kills people". His website are selling them for $27.99 each.
On top of this, Donald Trump Jr has also photoshopped an image of Baldwin wearing the T-shirt. He has also been sharing memes of the actor. This includes one with the caption "Let's all watch Alec Baldwin blame the gun". 
Before news of Trump Jr's T shirts came to light, Alec Baldwin had previously said, "There are no words to convey my shock and sadness regarding the tragic accident that took the life of Halyna Hutchins, a wife, mother, and deeply admired colleague of ours". 
He continued, "I'm fully cooperating with the police investigation to address how this tragedy occurred and I am in touch with her husband, offering my support to him and his family. My heart is broken for her husband, their son, and all who knew and loved Halyna". 
Following Hutchins' death, Screen Actors Guild also released this statement.
"Our hearts go out to the family of Director of Photography Halyna Hutchins who has passed away and to Director Joel Souza who is injured and hospitalized. This is still an active investigation and we do not yet have all the facts. We will continue to work with production, the other unions, and the authorities to investigate this incident and to understand how to prevent such a thing from happening again".