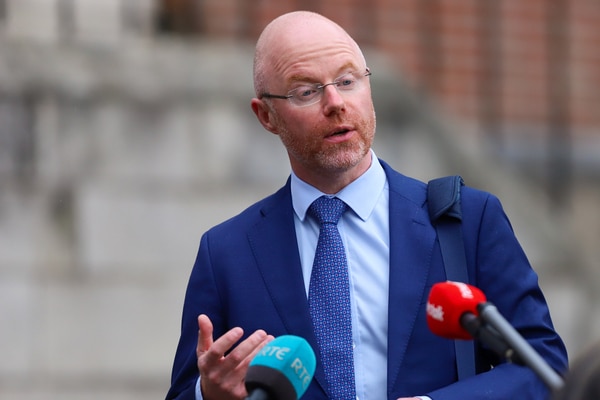 The Minister for Health has refused to rule out the possibility of another lockdown this Christmas, or in the future. Stephen Donnelly made the comments during an interview on RTÉ Radio 1's Morning Ireland, as the COVID-19 situation continues to escalate.
Donnelly answered questions on the program in relation to the new measures confirmed on Tuesday, requiring further COVID cert implementations. People will be required to show proof of vaccination or immunity to access theatres and cinemas, although no certificate is needed to enter hairdressers and gyms.
"We can go further, but what we wanted to do was put in a package of measures we thought would work very quickly," Donnelly said. Once you start getting into personal services or places where people go to work out, you get into a much more complex situation of what's allowed and what's not allowed."
The topic of antigen testing had been heavily discussed in the course of the interview, as close contacts identified by the HSE will be sent a pack of rapid tests for free. Although those close contacts will not need to self-isolate, they will need to take two to three tests within a five-day period. During discussions, Donnelly spoke on the costing effect with plans to subsidise the tests, yet no plans to make them free of charge.
"A single test will cost €8, it's too much," said Donnelly. The advice I have is that they shouldn't be free. They're free in the UK and the government came under huge criticism in parliament for that, because essentially there were no controls on how they were being used at all. They're very, very expensive. Every time you subsidise an antigen test, it's money you're not spending on a nurse, you're not spending on a doctor.
"We need to communicate with people when and when not to use them," Donnelly explains. "I was listening to a doctor on the radio this morning who was concerned that a lot of his patients were using them incorrectly. They were saying 'well I'm thinking of doing the following thing, but I may not do it' or that they are symptomatic, so I'll use a rapid test. That's not what they're for. If you're symptomatic, get a PCR test."
Although antigen tests distributed by the HSE, and those used in schools for children, will be supplied for free. However, no timeline has been given as to when these antigen tests will be implemented in schools, as of yet.
"They'll be available shortly, I fully hear the urgency, I share the urgency, we're pushing very, very hard on this and we'll have more details on it very shortly," Donnelly said. "We want to do everything we can to keep everything open… No one can answer that question [on the possibility of a future lockdown] now."