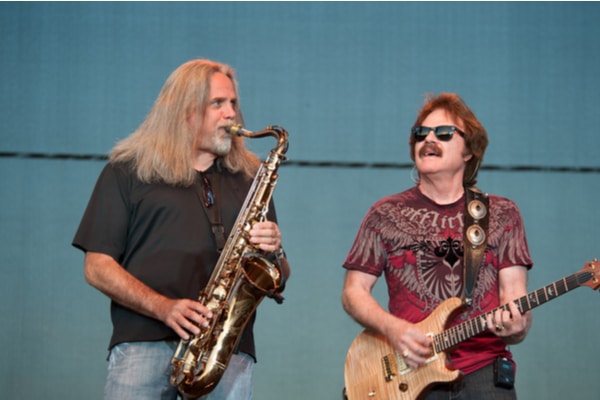 The Doobie Brothers have added Las Vegas dates as part of their 50th anniversary tour. They will play in Sin City next May.
The band will perform at Zappos Theater at Planet Hollywood Resort & Casino for eight show, beginning on May 13. They will also perform at the venue on May 14, 18, 20, 21, 25, 27 and 28.
Tickets for these gigs will go on sale on December 17 at 10am PT/1pm ET via the Ticketmaster website. Some pre sale tickes are avialable on December 16.
The Doobie Brothers will be joined on stage by singer/keyboardist Michael McDonald. McDonald will join Tom Johnston, John McFee and Pat Simmons on stage for this tour.
The Doobie Brothers had planned to play parts of this anniversary tour in February 2020. However the plug was pulled on these dates after Tom Johnston felt unwell, which turned out to be an early bout of Covid-19 as the pandemic struck.
"kind of excited"
Speaking to USA today, Michael McDonald revealed that he was excited to join the band for this tour.
"I'm kind of excited about it because we're making some adjustments as we go. (Keyboardist) Bill Payne won't be with us (next year) because of his commitments with Little Feat, and nobody is sadder than me about that", he said.
"So I'm readjusting my keyboard position. (Vegas) will be fun, anyway, but it's also a chance to get a jump on whatever changes I need to bring to the summer dates".
McDonald also admitted he did not expect him or the rest of the Doobie Brothers to spend so much time in Las Vegas.
"I never disliked Vegas, but I never really felt it was a place we would spend a lot of time", he said.
"When I was playing clubs in L.A., a lot of those guys would go to Vegas and play in the lounges there to get a good-paying gig. In many cases back then, the hotels would comp you on everything. If you went anywhere in town, even a coffee shop on the Strip, if they knew you were working, you'd get the receipt and the hotel would comp your meal".