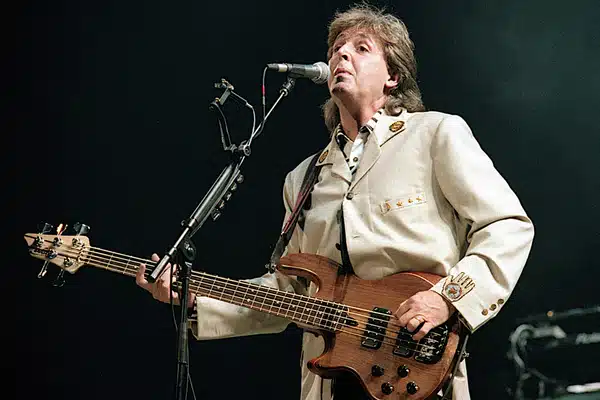 West Coast rap may be a long way from Merseybeat, but Dr. Dre has called Paul McCartney one of his heroes.
The NWA founding member and acclaimed hip-hop producer took to instagram to share a picture of himself "chillin with one of the fucking Beatles!!" and described McCartney as "Cool AF!"
He also captioned the post by calling McCartney "One of my heroes."
View this post on Instagram
Back in 2014, the pair were pictured hanging out together backstage at the post-Grammy Beats Music Party.
Paul hanging with @drdre at the @beatsmusic party for @TheGRAMMYs: http://t.co/svli6nLTgZ #GRAMMYs pic.twitter.com/SSD9vFcrtn

— Paul McCartney (@PaulMcCartney) January 31, 2014
The most famous mashup of hip-hop and The Beatles came in 2004 when Danger Mouse released The Grey Album. The album mixed the vocals from Jay-Z's The Black Album with samples from The Beatles' The White Album.
In a 2011 BBC documentary, McCartney spoke about The Beatles' influence on hip-hop.
"It was really cool when hip-hop started, you would hear references in lyrics, you always felt honoured," he said. "It's exactly what we did in the beginning – introducing black soul music to a mass white audience. It's come full circle. It's, well, cool. When you hear a riff similar to your own, your first feeling is 'rip-off.' After you've got over it you think, 'Look at that, someone's noticed that riff.'"
A bass guitar played by McCartney set a new auction record when it was sold last weekend.
The Yamaha BB-1200 bass guitar fetched a whopping $496,100. The previous record of $384,000 had been held by a bass owned by The Rolling Stones' Bill Wyman, sold last year.
McCartney played the Yamaha both in the studio and at live shows during his Wings era.
The auction was arranged by U2's The Edge and producer Bob Ezrin to raise money for musicians in America's southern gulf states who have been impacted by the pandemic.
Over $2 million was raised thanks to instruments donated by the likes of U2, Elton John, Pearl Jam, Rush, Tom Morello, Joan Jett, Bruce Springsteen, Lou Reed, Kings Of Leon, Johnny Marr, Green Day and Radiohead.
"We want to thank everyone involved in this amazing auction including the artists who generously gave their personal instruments and the bidders from around the globe who helped us break world records," The Edge said of the auction. "The proceeds Music Rising earned will help bring live music back to life in a part of the country whose musical culture has been hugely influential in the world. We are indebted to all of the supporters of Music Rising who have given us a great opportunity to return to our roots and help those musicians in need."