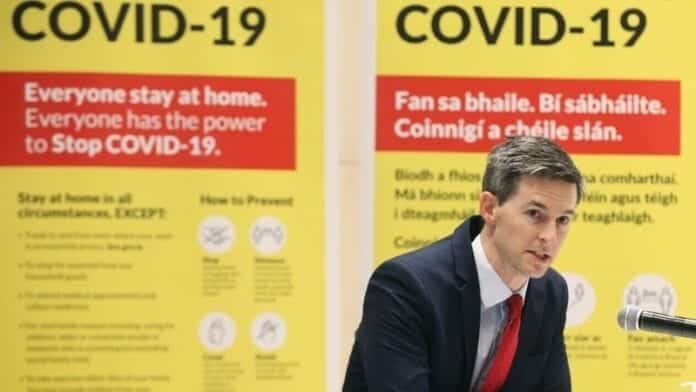 Deputy Chief Medical Officer Dr. Ronan Glynn has asked people not to buy cans and meet up on St. Patrick's Day.
It is the latest warning from public officials about the holiday. The HSE and the Gardaí have urged people to stay at home and avoid public events.
At the media briefing last night, the deputy CMO asked people to not congregate and celebrate together.
"We do not want people to be congregating over pints, we don't want people to be meeting up indoors. We don't want people to be buying cans and meeting up and drinking them on St Patrick's Day.
"We're giving the message because we know what will happen if people meet up, some of those people will end up in hospital. Some of those people will die, none of us want that to happen, particularly because those same people could be vaccinated over the coming weeks."
According to NPHET, the levels of infection in the community are too high for people to meet up with each other.
Dr. Glynn said while vaccines are on the way "they will not stop a wave over the coming weeks."
He said people should not be meeting up over the next few days, but if they are they should not meet inside or congregate with many other households.
Dr. Glynn said some people have stopped listening to the public health messages, but there is no blame in this as it is "all too easy to drop your guard and if you have, do the next right thing." 
The pause in the rollout of the AstraZeneca vaccine in Ireland has slowed progress on the vaccines.
However, there was good news this morning as the European Commission announced that Pfizer will be supplying the union with an extra 10 million doses in the second quarter of the year.
According to Ireland's Covid-19 Data Hub, a total of 615,934 vaccines have been administered.
These include 451,589 first doses of the vaccine while 164,345 people have received their second jab.
In total, this means that around 9% of the population have received one vaccine while just over 3% have received their second dose.
Photo Credit: RTÉ