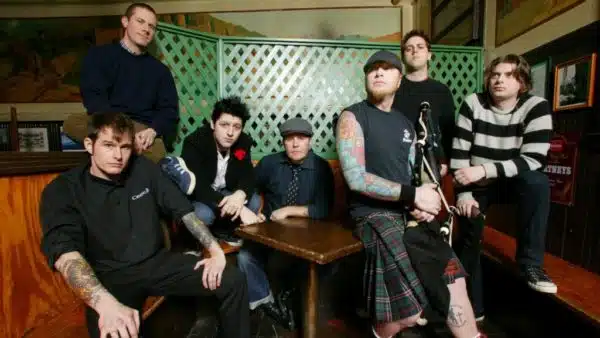 American Celtic punk band, Dropkick Murphys are bringing back their traditional St. Patrick's Day Tour for 2022! Kicking off on February 21st, the band will travel across America and bring in the spirit of St Patrick's Day.
Special guests, The Bombpops, and The Rumjacks, will join up with the band for most of their 22-date run. Jim Lindberg of Pennywise has been confirmed for the show in Boston on March 20th, performing songs from his latest album, Songs from the Elkhorn Trail, which releases November 19th.
Tickets to see Dropkick Murphys play their special Paddy's Day gigs go on sale November 12th, 10:00 local time and can be purchased from DropkickMurphys.com. The band make their return on the back of their widely viewed, highly acclaimed livestreamed the band's St. Patrick's Day concerts. Ireland will have to wait for the chance to see them at the 3 Arena when they arrive on January 14th , 2023. Tickets for that and their Belfast gig are on sale here.
2020's Streaming Up From Boston, and Dropkick Murphys St. Patrick's Day Stream 2021…Still Locked Down, received wonderful praise, with the latter topping Pollstar's Livestream Chart. Along with 2020'a Streaming Outta Fenway, and the 2021 Turn Up That Dial Album Release Party raised hundreds of thousands for their charity, The Claddagh Fund.
Dropkick Murphys made their return to the road between August and October for their first live gig since the pandemic began. Joining Rancid on a tour of the States, the band co-headlined on the Boston To Berkeley II Tour, which also featured at Chicago's Riot Fest, and Aftershock in Sacramento.
Their latest album, Turn Up That Dial, is the tenth effort to come from the Celtic rockers, dropping into our lives on April 30th. It became the band's fourth consecutive Billboard top 10 album debut, after 2017's 11 Short Stories Of Pain & Glory, 2013's 11 Short Stories Of Pain & Glory, and 2011 album, Going Out In Style. Throughout their time, Dropkick Murphys has generated half a billion streams through their unique sound, sold over 8 million records, and has sold out concerts all around the world.
https://twitter.com/DropkickMurphys/status/1458088656925827082?ref_src=twsrc%5Etfw%7Ctwcamp%5Etweetembed%7Ctwterm%5E1458088656925827082%7Ctwgr%5E%7Ctwcon%5Es1_&ref_url=https%3A%2F%2Fwww.irishcentral.com%2Fculture%2Fentertainment%2Fdropkick-murphys-st-patricks-day-2022