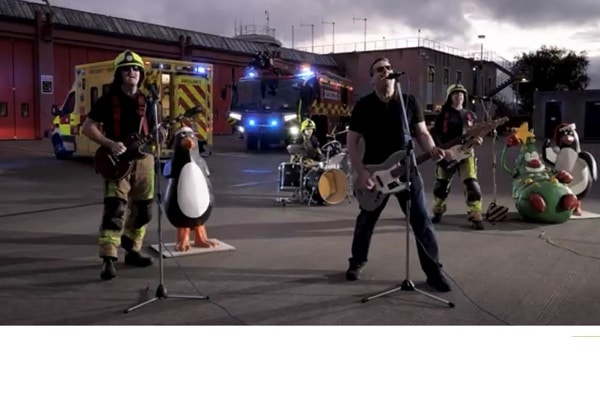 Members of the Dublin Airport Police decided they would try something a little bit different.
They have decided to join forces by recording a Christmas charity single, as part of the daa's Charity of the Year Scheme.
It is managed by staff who select the charity that benefits each year. They also raise a significant sum of money each year through their fundraising activities.
Like I said, this Christmas single is a tad different from what the daa would usually do to raise funds for charity.
Unfortunately, they have had to be a little more creative with their fundraising ideas this year due to Covid restrictions. Normal fundraising ideas would include marathons, bake sales, book sales, raffles and even race nights.
Dublin Airport Police Present: "The Cylinders"
This time, Dublin Airport Police and Fire Services have decided to tap into the hidden talent within the force. The results have led to the creation of a wonderfully festive tune, providing a welcoming boost after a turbulent 18 months or so.
Dublin Airport Police and Fire Services proudly present "The Cylinders" with "Medication". This track will be available to stream on Spotify soon.
Check it out for yourselves below.
"A special place"
The chairperson for daa Charity of the Year is Cathy Burke who had this to say.
"Our Charity of The Year programme has always held a special place for daa and our employees. I'm very proud and continuously surprised and delighted with the ongoing passion and ingenuity shown to raise funds for our charities". 
She also added, "The song and video show a lighter side to the serious work of the Dublin Airport Police & Fire Service and I'd like to say a big thank you to the team for their wonderful and entertaining efforts. I really hope that people get behind this alternative Christmas single and it inspires their generosity to dig deep and support this musical treat".
You can also donate to some great causes, including The Mater Foundation, St Francis Hospice, and Feed Our Homeless. Click here for more.
News of this also comes weeks after ABBA previously released their Christmas single "Little Things".