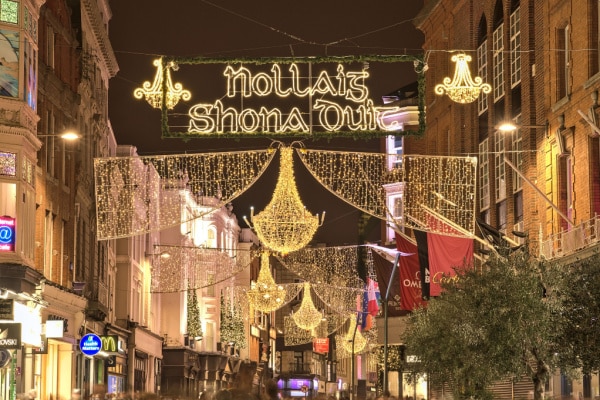 It has been reported that this year's Christmas Lights across the streets of Dublin are to be switched off that little bit earlier, due to the ongoing energy crisis.
Traditionally the lights vary from street to street across the capital, with Dublin's Grafton Street usually switching their lights on from 7am to until 4am. Other streets would switch their festive lights at 2pm.
Earlier this month, Energy Minister Eamon Ryan had said that local authorities were looking into the issue of Christmas Lights on streets in Winter.
"I think local authorities are starting to look at that, they're starting to consider every measure, but we're not being prescriptive at that level yet", Ryan said.
"very difficult for us all"
Following this, DublinTown who are the local business who operate the running of these Christmas lights, have indicated that the festive lights may be turned off a little earlier than planned, to cope with the Energy crisis.
"The past two years have been very difficult for us all. Children have had their Christmas experience curtailed during the pandemic", CEO Robert Guiney said.
"We believe that it is important that memories are created and that people have a joyous festive season to look forward to". 
Guiney also added that the business is "conscious of the displays' low energy consumption and will consider the daily duration of the illumination".
He also added, "However, we have invested over the past 13 years in high quality, energy efficient lights that provide that additional sense of excitement throughout the city. The lights on our main streets have become iconic and we want to ensure that everyone has the chance to enjoy the city's unique Christmas atmosphere at this special time of the year".