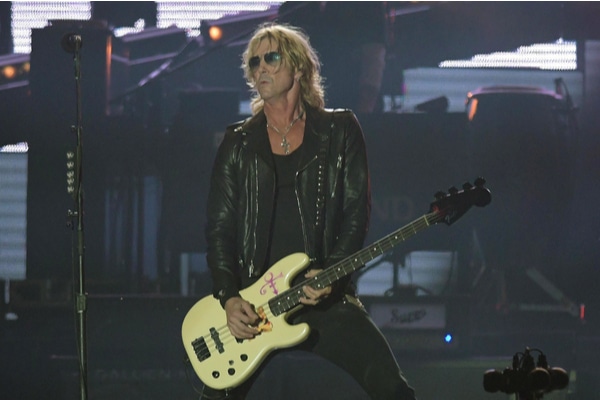 During the second show of his band's tour, Slash was joined on stage by Duff McKagan to cover Guns N'Roses track "Nightrain".
This performance concluded the second show of Slash, Myles Kennedy and the Conspirators' tour, with the show taking place at the Paramount Theatre.
The tour also saw the band cover Lenny Kravitz's "Always On The Run" (which was written by Slash) and Elton John's "Rocket Man".
Other tracks performed by the band feature on their new album 4, which arrives today. The tour is to conclude on March 2.
Check out the performance of "Nightrain" below.
Slash "really missed the Guns material"
Speaking of his decision to perform solo songs during the tour, Slash had this to say during a recent interview.
"I have to admit, I really missed playing the Guns material when this thing first started, so it was a great outlet for me", Slash revealed.
"But having gotten back with all my buddies in Guns, after a while I was like, 'I don't really need to do it with Myles and Company,' so we don't have any Guns songs in the set. That said, I sort of miss the occasional Velvet Revolver song. So I haven't put any Velvet songs in the set as of yet, but I might at some point put one, at least, just for the fun of doing it".
Elsewhere, Slash's Guns N'Roses bandmate Duff McKagan had been speaking recently to our very own Marty Miller last week.
Speaking to Marty@Work, McKagan covered several topics, including the possibility of purchasing a property in Ireland as a European base. Find out what he said here.
"I've searched the internet", McKagan revealed. "I've been looking for places (in Ireland) to have as a base".
He also spoke about making a new record and even singing the kids to sleep.
Both Slash and McKagan also spoke about an old interview that resurfaced after 30 years. Find out what was said here.