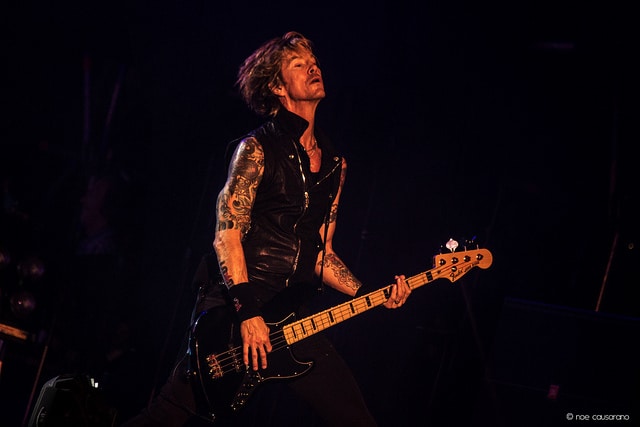 The bassist for Guns N' Roses Duff McKagan has talked about a possible reunion saying "I think it would be wonderful, one day, if we reconciled, first and foremost. That alone would be cool." It seems that he is willing to commit to a full reunion even though the last time they reunited at the Rock and Roll Hall of Fame, Axel Rose failed to show.
Duff appeared on WIND-FM where he discussed the break up of Gun N' Roses and their subsequent failed attempts to get the original line-up back together. Duff described their break up and how it all came to a head "I think every band is different, for sure. With our band, it was a lot of things. We just got really big. Once we started getting big, we got really big really fast".
Duff said that they found it hard to come to grips with their rock stardom "there's no 'how-to' instructional manual for that thing, what happens to your life. We just fall into every kind of stupid typical thing that we thought we'd never fall into."
Fellow band member Slash also talked about a possible reunion earlier this month stating" Never say never". However, he was quick to warn that it's not as easy as it seems "I got to be careful what I say there, I mean, if everybody wanted to do it and do it for the right reasons, I think the fans would love it.
Duff is currently promoting his new book How to Be a Man (And Other Illusions) as well as releasing a three song EP in coordination with the book.
Photo Credit: Noe Causarano