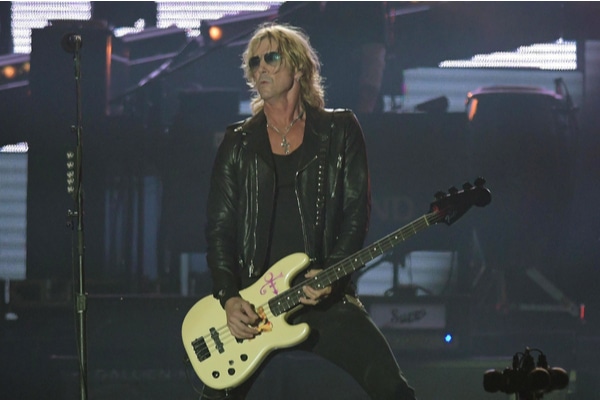 Music from American rock band, The Living is set to be released, featuring Guns N' Roses bassist Duff McKagan, aged 17. 1982 is set to feature some recordings from the Seattle punk band and is due to be released on April 16th.
Before Guns N' Roses and Mother Love Bone there was The Living, which featured 17-year-old Duff McKagan on guitar (Guns N' Roses/Velvet Revolver/ Gun N' Roses), Greg Gilmore on drums (Mother Love Bone), vocalist John Conte and bassist Todd Fleischmann.
Duff, 57, formed the punk-rock group in Seattle when he was just 15 years-old, opening shows for US punk bands like Hüsker Dü and D.O.A., and developing a devoted following. The previously unreleased 'The Living – 1982' features tracks written by the young musician and will arrive via Loosegroove Records, a Seattle label co-owned by Pearl Jam's Stone Gossard.
"It doesn't matter what year this music was recorded cause it is undeniable …. but the fact that Duff, Greg, Todd and John created these fully realised songs in 1982 gives credence to the idea that this band, The Living, are ground zero for the Seattle sound," Gossard explained. Duff added: "Would this even ever get out of our basement? We had something magical then, and it was ours, so who gives a f***!"
During an interview with Vintage Rock Pod, Duff's bandmate Greg Gilmore discussed the album and how he and John Conte had tried previously to release the songs. He said it "was quite a bit of frustration, for sure, in those years prior, but probably worth it in the end. It's getting more attention than I certainly expected or could've imagined. It's the best situation out of all of them so far".
Greg went on to explain the origins of the songs on the album are the result of two recording sessions with Duff and the lads. However, the drummer was unsure if the actual sequence which they recorded is the same as laid out on the record.
Gilmore added that "the first 5 songs are from the first session" and the subsequent session was created later. The second session was created "with an intern of the engineer of the first session" a few weeks later and featured the last two songs on the record.
Click here to pre-order Duff McKagan's 'The Living – 1982' album, set to release April 16th, or stream from various platforms now! Check out Gilmore's interview with Vintage Rock Pod below: