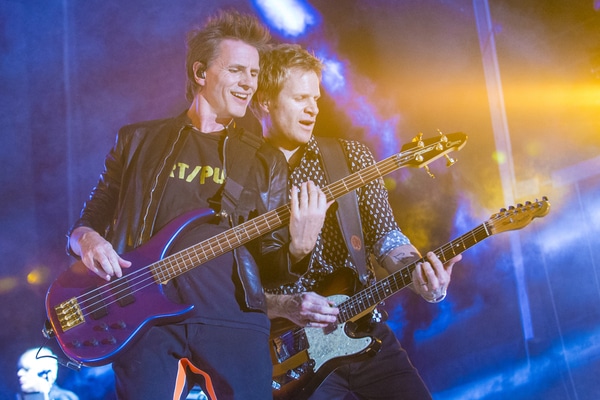 Duran Duran have been announced to perform at the Billboard Music Awards, their first ever BBMA telecast appearance. The 80s new wave group will share a live premiere of their soon-to-be-announced new single with fellow Brit, Graham Coxon.
The single is taken from the group's upcoming new album, the first since their 2015 album, Paper Gods. The group completed their latest creation during last year's lockdown and look set to release it to their fans. The Rio group are fourth to be named for a performance slot, following announcements for BTS, the Weeknd and Pink.
Nick Rhodes told Vogue in April that there was a new Duran Duran album almost finished "before the pandemic struck". We were gearing up with a lot of shows, like a lot of other artists, and had to put everything on hold". The keyboard player revealed the news during an interview promoting an ambient side project he has with Wendy Bevan, Astronomia.
As well as working with Blur's Graham Coxon, the group have collaborated with some big names for their upcoming album. The legendary Giorgio Moroder, Lykke Li, Erol Alkan all got the nod, as well as Mark Ronson, who co-produced their previous work.
Duran Duran will soon be gearing up for their headline show at the Isle of Wight Festival this September. The four-day fest will also include fellow headliners Liam Gallagher, Snow Patrol and David Guetta, plus Tom Jones, Supergrass, Primal Scream and Sam Fender.
The BMAs, hosted by Nick Jonas, will broadcast live from L.A.'s Microsoft Theatre on May 23rd. Duran Duran's appearance marks the 40th anniversary of their self-titled first album. Their second, Rio is the subject of Annie Zaleski's new book.
The group were also due to headline this year's BST Hyde Park event, but like many other events, the gig was postponed until 2022. Pixies will support Pearl Jam on July 8th, whilst Nile Rodgers & CHIC will join Duran Duran on July 10th. A new artist will eventually be announced for July 9th, together with a full supporting line up for all days of the event.