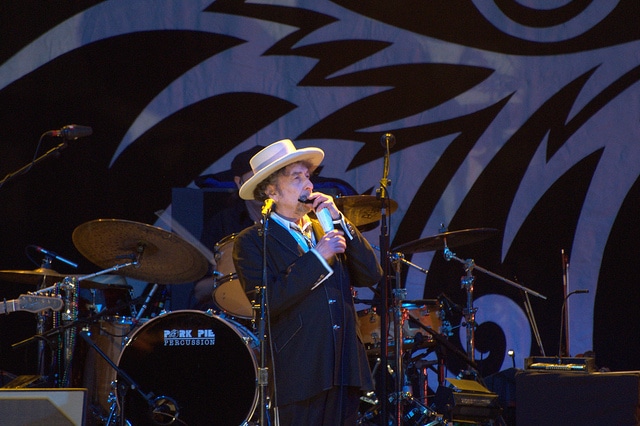 Is Bob Dylan getting into the swing of Sinatra music?
The iconic singer/songwriter's enjoying worldwide success with his new album Shadows In The Night, but it's rumoured that may not be his last trip down musical memory lane.
The record, which features Dylan's take on old classics like 'Some Enchanted Evening' and Sinatra's 'I'm A Fool To Want You', is currently number 13 in the Irish album charts and débuted in the top ten of charts in 13 countries.
Producer and fellow musician Daniel Lanois (known for his trojan work with U2 over the years) says Dylan's made two records' worth of material from all the Sinatra-era songs that he liked.
Lanois has told The Vancouver Sun: "He came to my house eight or six months ago and spent a few hours…[listening] to 21 songs – because he's made two records of this."
Lanois added Dylan is drawn to the music of Old Blue Eyes: "He felt that a lot of that music was written not only by great professional songwriters at the time, but a lot of it was written from the heart…He felt there was a kind of beauty, a sacred ground for him. After having said all that, we then listened to the music, and I felt everything that he talked about. For one of America's great writers to say, 'I'm not gonna write a song; I'm gonna pay homage to what shook me as young boy."
However, talk of a second covers' album from Bob Dylan is just rumour blowin' in the wind at the moment. His people haven't confirmed there'll be another release.
/div>