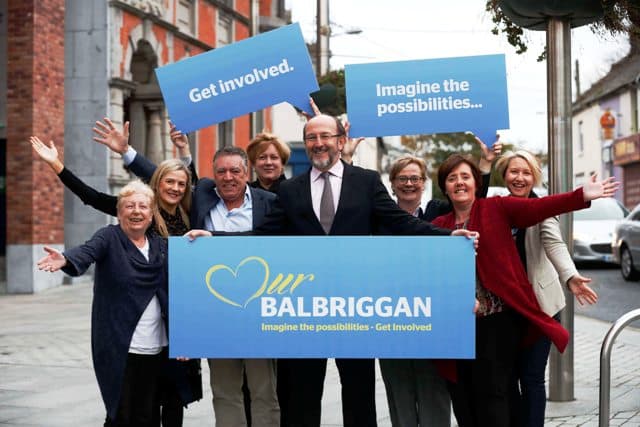 The future of Balbriggan in north county Dublin is set to be transformed through a €20m plus rejuvenation plans which include a new river park flowing through new public areas to a reimagined harbour and marina and a link up with a greenway.
Balbriggan can boast that it's Ireland's youngest town with an average age of just 30 and a half years with a huge population and housing growth without the equivalent amenities.
Local residents will also have the chance to develop the town with a sustainable future for its population, by way of a public consultation plan and survey entitled 'Our Balbriggan' which will shape the priorities for a list of improvements.
A Balbriggan leadership group, chaired by Professor Brian MacCraith, President, Dublin City University, was established this year to prepare ambitious plans for the area with actions that can be delivered upon. Professor MacCraith says:
"In a few years' time the centre of the town will have been transformed with public amenities flowing from the River Bracken and the Millpond Park through Quay Street down to a completely reimagined Harbour which will be the envy of the country,"

"The transformation is already beginning, with free town centre Wi-Fi, new Skate Park and Heritage Trail just a few of the initiatives due to be unveiled in a short period of time.

"The Our Balbriggan survey will allow the people of the town to have a say in prioritising a range of improvements.

"At the moment, this town is missing a heart – a properly functioning town centre.

"This whole initiative is about creating an ambitious and prosperous future for Balbriggan that builds on all of its strong points – the physical assets, its fabulous beach, its location and its diverse and rapidly-growing talent base.

"By understanding the connectivity of all these assets in a smart way you can totally transform a town."
Fingal County Council Chief Executive Paul Reid:
"A Balbriggan Socio-Economic Strategy, which will be published at the end of Q1 2019, will contain an implementation plan with a list of actions, activities and accompanying timeline, directly influenced by the results of the Our Balbriggan survey.

"A €10m capital fund allocated to support the Balbriggan Strategy over the next three years is a real and sustained commitment to the town and the people of the area have the opportunity to shape and influence the order of priorities."

"In addition to the €10mi allocated for the implementation of the Balbriggan Strategy an additional capital sum, in excess of €10million, has also been allocated for the completion of the Balbriggan to Skerries Greenway, development of Bremore Castle into a premier visitor destination, development of Bremore Regional Amenity Park, and upgrades to cycle ways and connectivity in the town.

"The total cost of all public realm activities is likely to exceed the amount available, so choices may have to be made and which activity, the timescale and likely budget will be directly influenced by the results of the survey.

"But the plan goes much deeper than public spaces and amenities. It will involve every area of local lives – employment, education, skills, local economy and enterprise and community affairs and integration."