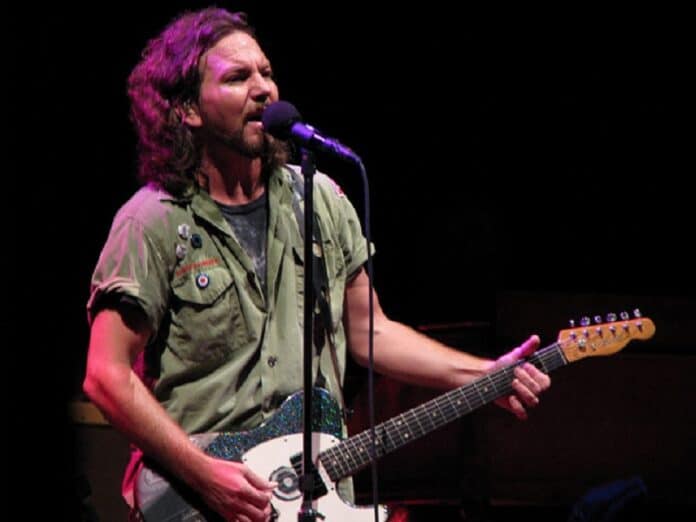 Pearl Jam frontman Eddie Vedder released an expanded version of his 'Matter of Time' EP on Christmas Day.
'Matter of Time' and 'Say Hi' were the original two songs released. Vedder wrote the songs to help raise funds and awareness for people suffering with the rare condition epidermolysis bullosa (EB).
He played the songs at a virtual fundraiser earlier this year. For more information, you can read Radio Nova's report on it here.
The benefit was hosted by Vedder and his wife, Jill. Speaking at the event, Jill said "Ed and I are incredibly grateful to everyone joining us for Venture Into Cures. Every day kids with EB and their families face astonishing challenges. This event will give people a glimpse into their world".
"EBRP's mission is to find a cure for EB, and this event will help bring us one step closer to making that mission a reality by adding momentum to the work being done".
Just Breath, Future Days and Porch are all Pearl Jams that Vedder has performed acoustically before. Porch from the band's iconic 'Ten' album was played their iconic MTV Unplugged show.
Growin' Up is from Bruce Springsteen's debut album, 'Greetings From Asbury Park, N.J'. Vedder and Springsteen have collaborated before on numerous occasions before.
You can check out the track list below and listen to new EP.
Meanwhile, Eddie Vedder has revealed he is still grieving for Chris Cornell. Speaking on The Howard Stern show, Vedder said "I've had to be somewhat in denial. I still haven't quite dealt with it."
He went on to add "I loved the guy. I would allow him to make those choices, you know? But I think suicide is a violent act that hurts so many people. That feels unfair. And when you have kids, I think you kind of don't have that option anymore."
Pearl Jam are due to play two massive shows in London next summer. The grunge icons are set to play many concerts on the continent next summer in order to make up for their cancelled 2020 tour. There has been no word of an Irish date so far.
Matter of Time track list
1. 'Matter of Time'
2. 'Say Hi'
3. 'Just Breathe (acoustic at home)'
4. 'Future Days (acoustic at home)'
5. 'Growin' Up (acoustic at home)' – Bruce Springsteen Cover
6. 'Porch (acoustic at home)'