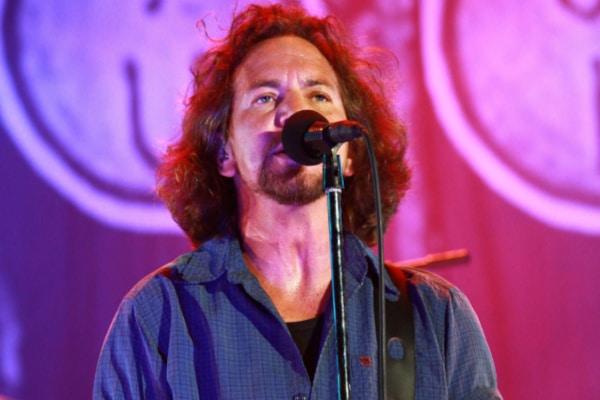 For the first time in over a week, Eddie Vedder returned to the performing stage with Pearl Jam. The band's frontman had been recovering from damage to his vocal cords.
Following the band's recent gig in Paris, Vedder damaged his throat from the French wildfires.
Pearl Jam performed in Paris on July 17, during a record heatwave in the City. Vedder suffered vocal damage by these harsh conditions.
This prompted the band to cancel several shows, including Vienna and Prague, as part of their tour.
They said that their Vienna show was cancelled , "due to the extreme circumstances at the last outdoor site outside of Paris (heat, dust, and smoke from the fires) our singer Ed Vedder's throat was left damaged". 
"He has seen doctors and had treatment but as of yet, his vocal cords have not recovered. This is brutal news and horrible timing…for everyone involved. Those who work so hard to put on the shows as well as those who give their precious time and energies to attend". 
On cancelling their show in Prague, Pearl Jam also added, "[Vedder] is continuing the treatments for his vocal cords, but unfortunately, there is still no voice available". 
See Footage Of Vedder Performing 'Alive'
Following this, Eddie Vedder recovered sufficiently to take to the stage with the rest of the Pearl Jam band at Amsterdam's Ziggo Dome, having been forced to cancel the first of these two shows, due to the singer's health.
Check out footage of Vedder performing 'Alive' below.
Cancelling the first show, Pearl Jam wrote, "In spite of continuous medical treatment, Ed is regretfully still without a voice and unable to perform tonight's show at Ziggo Dome in Amsterdam". 
"This is again the worst possible scenario for the band". 
"We wholeheartedly apologize to all that worked so hard to put on the show and those supporters we looked forward to seeing […] Thank you enormously for your continued understanding".