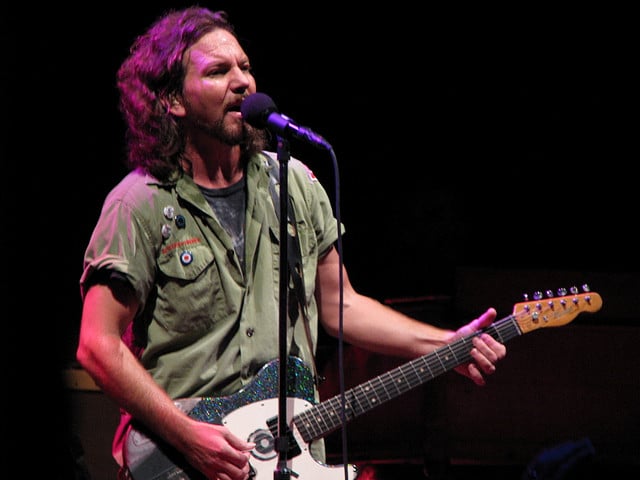 Eddie Vedder has revealed that he is still in the process of grieving for his late friend and fellow grunge singer, Chris Cornell.
Vedder appeared on The Howard Stern Show last night. The appearance was due to take place in March but was cancelled due to the pandemic.
The show started off with laughs and it was light in nature. The conversation took a serious tone when Stern asked Vedder about Cornell.
"I've had to be somewhat in denial. I still haven't quite dealt with it" said Vedder. He added that he had only seen Cornell "4 or 5 times" in the decade prior to his death.
Vedder confessed that he felt "angry" about Cornell's passing. "I loved the guy. I would allow him to make those choices, you know? But I think suicide is a violent act that hurts so many people. That feels unfair. And when you have kids, I think you kind of don't have that option anymore."
The Pearl Jam front man reminisced about the days he spent with Cornell. Vedder told Stern that he and Cornell would "go on crazy hiking adventures, or we'd go mountain biking, or we'd chase the dog in the rain drinking shitty beer." He also revealed that he taught Cornell's daughter, Lily, how to surf. He added that Lily "has been kind of like a big sister to my kids."
Vedder also shared stories about helping Bradley Cooper for his role in the film 'A Star is Born' and talked about his experiences with Bruce Springsteen.
Cooper asked Vedder for tips on how to make his stage performance realistic. Vedder suggested "Make sure your guitar covers your balls at all times…That way, if the crowd throws anything, let's say an orange or a tennis ball, you'll be covered."
He remembers driving to the cinema to watch the film, Vedder spent the time thinking of ways to make fun of Cooper for the movie but he admitted he was "blown away" by Cooper.
Springsteen wasn't shy about correcting Vedder when the pair were performing Springsteen's 'Darkness on the Edge of Town'. Vedder also told Stern of another Springsteen story, while doing a great impression of the boss. "Hey, Ed! I've got an idea! Here's the deal. All right. First song: AC/DC, 'Highway to Hell.' You take a verse, I take a verse, and then you're done. You can drink beer, you can do whatever you want. None of this encore shit. You don't have to wait around. First song, hit it with me, and you're good to go!"
Vedder went on to add "The best part of when you get to do that isn't actually playing it in front of people. The best part is when you're sitting in the back, either with Pete Townshend, or Bruce, or Neil (Young), right across the small table or sitting on the same couch, playing the song and hearing them sing.
It was announced last week that Pearl Jam's iconic MTV Unplugged show is now available to watch on their official YouTube channel, you can get more information about it here.