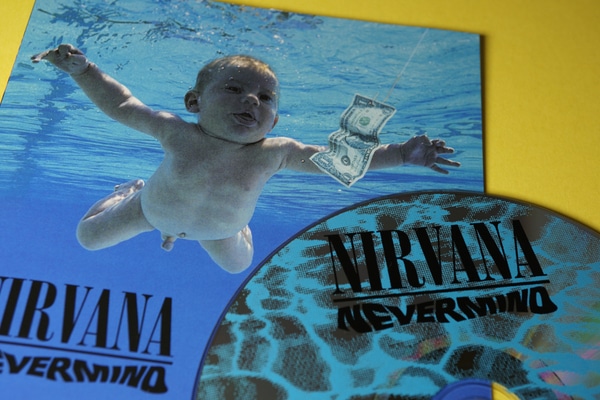 Spencer Elden's lawsuit against Washington grungers, Nirvana has been recently dismissed by a judge in California for missing the deadline to oppose. Elden, the naked Nevermind baby, sued the band last year, alleging sexual exploitation, and that the artwork constituted child sexual abuse.
According to reports, the suit had been dismissed on Monday by Judge Fernando M Olguin and the US District Court for the Central District of California. The ruling had been made following Elden missing a deadline of December 30th to file an opposition to the defendants' request that the suit be dismissed.
He had recreated the image several times, including for the 10th, 17th, 20th, and 25th anniversaries, and even has the album title tattooed across his chest. However, he had said in recent years that there had been mixed feelings on being known for the cover. Now 30, Elden claims the infamous image had caused him "extreme and permanent emotional distress" as well as loss of wages and "enjoyment of life".
Photographed for the image at the age of four months, Elden filed the lawsuit in August 2021, constituting the picture as "child pornography" taken without his consent. Last month, Nirvana filed to dismiss Elden's child pornography suit as they feel his arguments lacked merit after so long.
Nirvana lawyers said, "Elden's claim that the photograph on the Nevermind album cover is 'child pornography' is, on its face, not serious," noting that anyone who owned a copy of the record would "on Elden's theory [be] guilty of felony possession of child pornography".
They continued to say that, until very recently, Elden had seemed to enjoy the notoriety of being the Nirvana baby. "He has re-enacted the photograph in exchange for a fee, many times; he has had the album title… tattooed across his chest; he has appeared on a talk show wearing a self-parodying, nude-coloured onesie; he has autographed copies of the album cover for sale on eBay; and he has used the connection to try to pick up women."
Regardless of the merits of Elden's case, they argued, the statute of limitations on his claims had expired in 2011. However, his lawyers of Marsh Law argue that; as long as Nevermind continues to be sold in its current form, the statute of limitations does not apply.
Speaking in a statement with Variety, Marsh Law declared; "Child pornography is a forever crime. Any distribution of or profits earned from any sexually explicit image of a child not only creates longstanding liability, but it also breeds lifelong trauma. This is common for all of our clients who are victims of actively traded child pornography, regardless of how long ago the image was created."
The court has said it will "grant defendants' motion and give plaintiff one last opportunity to amend his complaint" by January 13th. In a statement to AFP earlier today, Elden's lawyer Robert Lewis said they would do so very soon. "We are confident that Spencer will be allowed to move forward with his case."