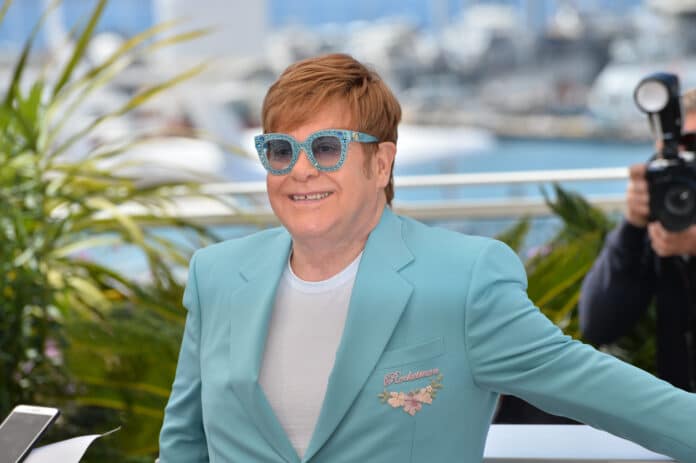 Elton John and Alice Cooper recreated a famous photograph of the pair from 50 years ago, to celebrate Bernie Taupin's 71st birthday in LA.
Cooper, John and Taupin were also joined by Will & Grace actor Eric McCormack to recreate the iconic snap.
McCormack was not in the orginal photo, but he took the role of late comedian Paul Lynde. Lynde was present for Taupin's 21st birthday celebrations in 1971. McCormack posted both photos on Instagram. You can check that out here.
"Bernie Taupin's 21st Birthday and, last night, his 71st", McCormack wrote as he shared the snaps on Instagram.
"50 years later and I got to be Paul Lynde! 15-year-old me would be losing his mind!, he also added.
"My musical soulmate" – Elton John on Bernie Taupin
"Celebrating the milestone birthday of my musical soulmate", Elton John wrote. "Happy Birthday Brother, I love you". 
Elton John and his "musical soulmate" Bernie Taupin have been working together since 1967, when they both responded to an advert placed in NME from Liberty Records looking for songwriters.
They worked together on most of Elton John's classic hits, including, "Candle In The Wind", "Rocket Man", "Crocodile Rock" and "Tiny Dancer". 
Speaking of "Crocodile Rock", Elton John said that the one thing that will make him happy is if he never has to sing that song again. Find out why and what song he picked as his favourite to perform here. 
Earlier this year, Elton John had marked his 74th birthday by releasing the first ever track he wrote with Taupin. The track "Scarecrow" was made available on digital and streaming formats for the first time.
Taupin had written the lyrics, but this was the first time that John had put music to the words.
"Scarecrow will always have a very special place in my heart, and I know that Bernie feels the same way too", John said at the time.