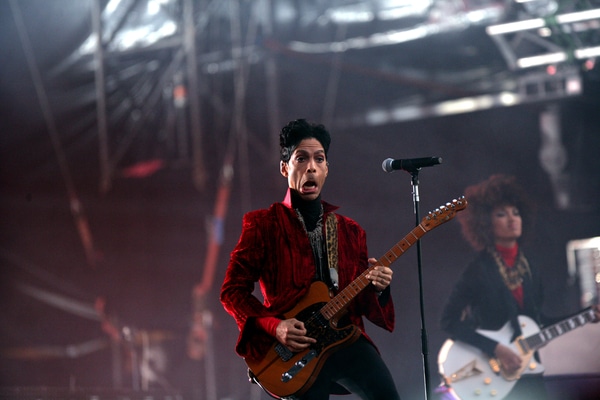 Elton John has recalled the times Prince "walked off" on him twice, before finally getting to perform live together in 2007. John explains the strange events in foreword to Duane Tudahi's new book; Prince and the Parade and Sign O' the Times Era Studio Sessions: 1985 and 1986.
Recalling the late singer in his foreword to the book, the 74-year-old describes his introduction to the 'Purple One'. Elton first met Prince at a Grammy's afterparty in Los Angeles when the artist stood alone by the wall.
"I went up and introduced myself to him: 'Hi, my name's Elton and I'm a huge fan of yours and I just wanted to say … .' That was as far as I got – Prince just walked off without a word."
Admitting being blanked by Prince was a "deflating experience", Elton understood as "everyone knew how shy Prince was". However, the Rocketman singer had a second shot at greeting the artist during his residency at Caesars Palace, Las Vegas. At the time, Prince was performing a residency of his own at the Rio Hotel & Casino, so John made his move.
"He'd got the hotel to build him his own nightclub, Club 3121, everything painted purple, and I'd see him driving around town in a Bentley on which the paintwork turned purple when the sun hit it. This time, he asked me to play onstage with him that night. He wanted me to sing the Beatles' 'The Long and Winding Road.'
"I told him I didn't know the words, Elton revealed. "He said that he didn't either, and that he had them written out on the floor of the stage. So, I went onstage with him, and we started playing 'The Long and Winding Road'. It's sounding great. Midway through the song, I looked around. No Prince: he'd just walked off again."
In excellently detailed manner, Duane Tudahi's book documents "a great moment" of Prince' career, "when he was writing one incredible song after another". Although he cites every artist has a period "when they're on a roll", Elton recalls Prince' patch "seems slightly inexplicable and unearthly".
Following his second meeting with the star, Elton had another chance to perform with Prince, September 2007. As Prince performed at London's O2 arena, Elton came onto the stage for another duet of his fellow rich lister's classic. Check out the video below.