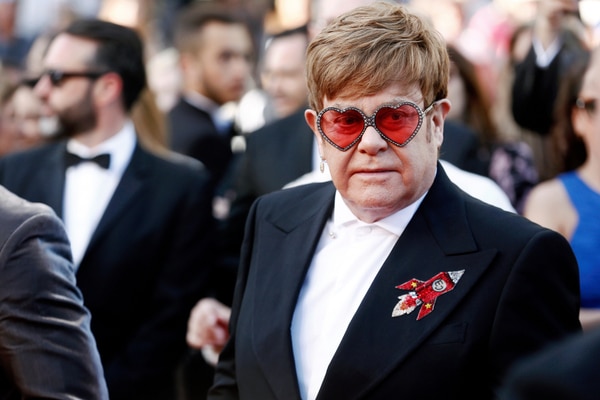 Elton John has said that taking his first line of cocaine was one of the biggest regrets of his life.
Speaking recently, the Crocodile Rock singer said that he began taking drugs "for the sake if it and it became an addiction". 
The music icon had previously revealed in his 2019 memoir Rocketman, that it took him a long time to escape this addicton.
"I wouldn't have taken as many drugs", he told Ladbible TV.
"Although I continued to work when I took drugs, I didn't make my best work some of the time. … I never really wanted to take drugs, I just joined in for the sake of it and it became an addiction. I became an addict and alcoholic, and I've since learned my lesson, but I would, if I could go back to when I first saw a line of cocaine, I would say no now". 
Elton John on his "unexpected" career
Elton John also chose the word "unexpected" when describing his career. He recently made history by becoming the only artist to have a top ten single in the UK Charts for six consecutive decades.
The track is called "Cold Heart" featuring Dua Lipa.
He added, "I was never really a singer in my band, the Bluesology," he explained. "And then when I started writing songs, nobody recorded them. So, I was forced to sing the songs, and so I became a singer by accident. Great thing about life: It throws things at you that you totally don't expect. My career … started in 1970 and exploded. I never for saw that coming whatsoever".
In another interview, Elton John also confirmed that a Christmans duet with Ed Sheeran was on the cards for this year.
After Sheeran had confirmed this news earlier this month, Elton John joked that he had "let the cat out of the bag".
"Yeah, he let the cat out of the bag didn't he?", Elton said. "I was sworn to secrecy and then big mouth f****** Sheeran goes to the Netherlands! It's supposed to come out – we haven't finished it yet, so there's still work to be done". More on this here. 
On top of this, Elton John also said that he intends to finish his End of the Yellow Brick Road Farewell Tour before he retires from performing.
"At the moment, I finish supposedly in 2023, in the summer, by which time I'll be 76 – and that's it," he told NME. "I can't wait to do it and have a great time, and I can't wait to finish and say, 'No more – I've had enough".