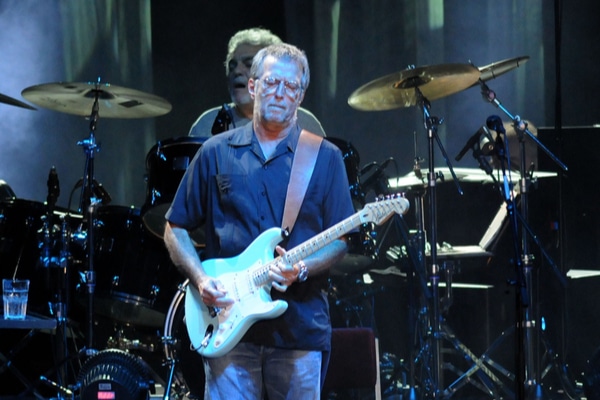 Eric Clapton has announced the impending release of his new single "Heart of a Child". He co-wrote the track with fellow vaccine skeptic Robin Monotti.
This is the second track released by Clapton, after he released "This Has Gotta Stop" back in August. This was the latest track to be released by the singer, expressing his abhor for Covid safety measures like vaccines and lockdowns.
He also released "Stand and Deliver" with Van Morrison back in 2020.
"locked you down boy"
Arriving on Christmas Eve (December 24) "Heart of a Child" will be released via Bushbranch/Surfdog Records.
This new song from Clapton also includes the following lyrics, "We lost the love of a man / I was proud to know / They locked you down boy / Made you grieve alone / Turn off the TV / Throw your phone away / Don't you remember / What your daddy used to say".
Taking to Instagram, Eric Clapton wrote, "New song coming next Friday – December 24".
Earlier this year, Eric Clapton also wrote a letter to Monotti where he shared his "disastrous" experiences after receiving the Covid-19 vaccine.
"I took the first jab of AZ and straight away had severe reactions which lasted ten days. I recovered eventually and was told it would be twelve weeks before the second one", he wrote.
Clapton added, "About six weeks later I was offered and took the second AZ shot, but with a little more knowledge of the dangers. Needless to say the reactions were disastrous, my hands and feet were either frozen, numb or burning, and pretty much useless for two weeks, I feared I would never play again, (I suffer with peripheral neuropathy and should never have gone near the needle.) But the propaganda said the vaccine was safe for everyone".
"I continue to tread the path of passive rebellion and try to tow [sic] the line in order to be able to actively love my family, but it's hard to bite my tongue with what I now know,". More on this from Nova here.
Eric Clapton has also recently won a case against a woman who sold a bootleg CD of the singer.