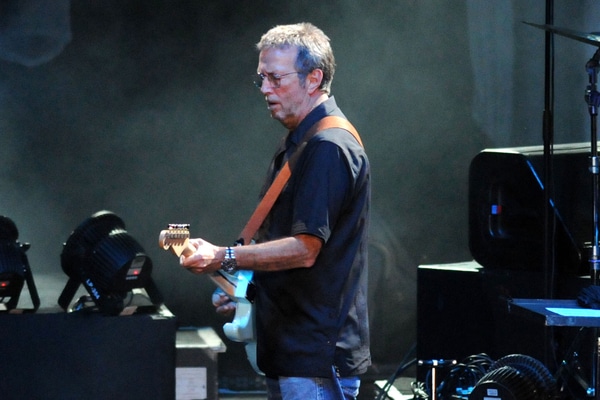 It has been revealed that Eric Clapton donated £1,000 and the use of his van to anti-lockdown music group Jam for Freedom.
Founded by 27-year-old Cambel McLaughlin, Jam for Freedom is a group of British musicians that has been playing for free in public areas over the last year. Their anti-lockdown songs contain lyrics like "You can stick your poison vaccine up your arse." McLaughlin was arrested for breaching COVID regulations during one show.
Earlier this year McLaughlin launched a GoFundMe to help cover the group's transport costs. He revealed that the campaign received a donation of £1,000 from Eric Clapton.
McLaughlin contacted Clapton, who then agreed to loan him his six-person VW Transporter van for use by Jam for Freedom. The guitarist also offered an undisclosed sum of money for McLaughlin to purchase a new van.
The pair later met up in a recording studio. The two were unable to jam together as Clapton claimed to be suffering side-effects from receiving the COVID vaccine.
"We did want to have a jam, but because of his condition at the time, it was tough for him to play," McLaughlin told Rolling Stone.
Over the past year Clapton has become one of the music world's leading anti-vaccine voices. He claimed to have suffered "disastrous" side-effects after taking the Astrazeneca vaccine.
"I took the first jab of AZ and straight away had severe reactions which lasted ten days," he wrote in a letter to anti-lockdown activist Robin Monotti. "The reactions were disastrous, my hands and feet were either frozen, numb or burning, and pretty much useless for two weeks, I feared I would never play again."
Clapton joined Van Morrison on a trio of songs protesting the lockdown and released his own anti-lockdown anthem titled This Has Gotta Stop. The guitarist has been pictured backstage with prominent anti-vaxxers on his US tour.
Despite his anti-vaccine stance, Clapton played a concert in New Orleans last month that required all attendees to produce proof of a full vaccination. In July he had said he would refuse to play at any venues that imposed such restrictions.
"I wish to say that I will not perform on any stage where there is a discriminated audience present," Clapton declared in July. "Unless there is provision made for all people to attend, I reserve the right to cancel the show."
In a newly discovered interview with John Lennon it was revealed that The Beatles considered replacing George Harrison with Clapton. In January 1969, while recording let It Be, Harrison temporarily quit the band.
"I think if George doesn't come back by (next week) we ask Eric Clapton to play," Lennon is heard remarking on the newly discovered tape. Harrison reunited with the band six days later.