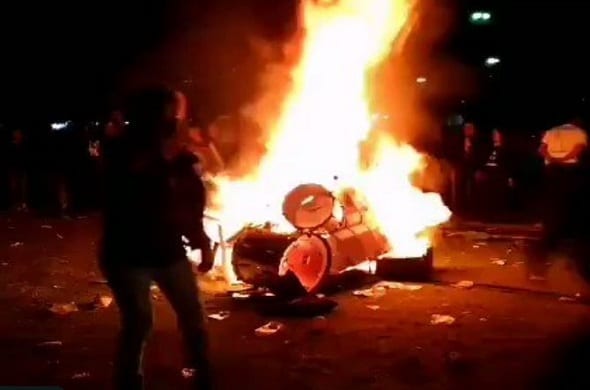 According to reports, Evanescence's stage equipment was set ablaze on Sunday night in Mexico after Slipknot's Knotfest Mexico was called off. The cancellation was just before its final two performances.
The latest edition of the travelling festival happened Saturday (November 30) at Parque Deportivo Oceania in Mexico City.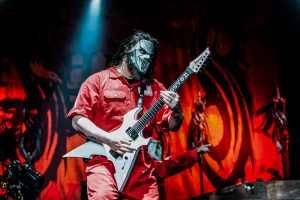 Slipknot were meant to headline the festival that also included Evanescence, Behemoth, Godsmack, Bullet For My Valentine to name a few.
However, Slipknot were forced to call off their show because of a broken barricade and an inability to mend it.
The band wrote in a joint statement on Twitter. "Because of a broken barricade and failed attempts to fix it, Slipknot were forced to cancel our performance last night." Evanescence was also forced to cut their set due to the same issue.
After some festival-goers wind of the cancellation, they stormed the stage and destroyed a variety of equipment. The NME reports that some of the gear belonged to Evanescence.
Pésima planeacion por parte de @LiveTalentMx y aún peores asistentes.#knotfest #KnotfestMexico #knotfestMX #KnotFest2019 #KnotfestMexico2019 pic.twitter.com/MfFDwtvdjc

— ElEsePincheWey (@easp10) December 1, 2019
A tweet by an Evanescence fan page read: "People attending the festival proceeded to throw things on stage after the announcement of the cancellation and cause serious damage to Evanescence's equipment."
Adiós a la batería de Evanescence en el #KnotFest, gracias a la pésima organización y seguridad de Live Talent pic.twitter.com/5obb663pLo

— Uziel (@UzielChavz) December 1, 2019
El #KnotFest se está saliendo de control. Ante el retraso de horas de Evanescence y Slipknot por una supuesta barricada rota, los fans ya están destruyendo y quemando objetos en el Parque Deportivo Oceanía. #KnotFestMexico Nadie ha dado ninguna información oficial. pic.twitter.com/I2QGGjnuCR

— Adolfo López (@AdolfoLopezMX) December 1, 2019