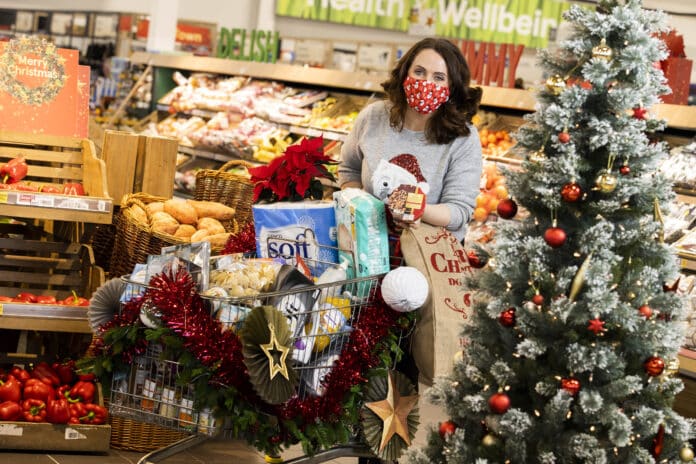 Nova's Ruth Scott has teamed up with Tesco Ireland to promote this year's Annual Christmas Food Appeal, in partnership with FoodCloud this weekend and every little helps!
In a year that has seen unparalleled levels acts of kindness, Tesco is now calling on shoppers across Ireland to now support those in need within their local community this weekend, by purchasing one additional product and donating it to the Food Appeal trollies located in 94 stores from Friday 4th to Sunday 6th December.
As part of the appeal, Tesco has created a special 'shopping list' of suitable items, that will be on display at the entrance of each participating store. Non-perishable foods are vital for local good causes, with tea bags, pasta and rice, breakfast cereals and tinned goods most suitable. The Tesco Christmas Appeal also welcomes household necessities such as toiletries, nappies, small clothing items and toys. Items donated also go towards supporting the vulnerable in our local communities. Customers are encouraged to pick up just one additional item and donate it to the Christmas Appeal Trolley which will be clearly marked at the front entrance as they leave the store.
CLICK BELOW TO HEAR RUTH SCOTT CHATTING WITH COLM & LUCY ABOUT HOW YOU CAN HELP THIS WEEKEND
Ruth Scott said "I am delighted to be involved in the Tesco Christmas Food Appeal this year and support those in the community who are less fortunate. As we prepare for Christmas that may look a little different this year, by coming together and supporting those around us who need it most, we can all play a small part to make a big difference. If everyone who visits a Tesco store this weekend donates just one item, just imagine the impact we could have."
All the items donated during the appeal across Tesco stores will be distributed to over 130 partner causes from the Tesco surplus food donations programme, operated in partnership with FoodCloud. Volunteers from these organisations will collect the items donated over the three days and distribute them to a network of local groups that support those in need.
Dont forget, to support your local charitable organisation through the Tesco Christmas Food Appeal, just visit your local Tesco Extra or Tesco Superstore on Friday, 4th, Saturday 5th or Sunday, 6th December from 11am and 7pm and make any donation possible.
The following items are a guide for shoppers planning to donate products in their local Tesco store:
Tea bags & Instant coffee
Biscuits
Sugar
Breakfast Cereals
Tinned goods (vegetables, fruit, fish, meat)
Pasta & Paste Sauces
Rice & Rice Pudding
Soft drinks
Sweet Treats
Selection Boxes
Christmas Cake
Toiletries
Nappies
Toys
Clothes
Cleaning Products