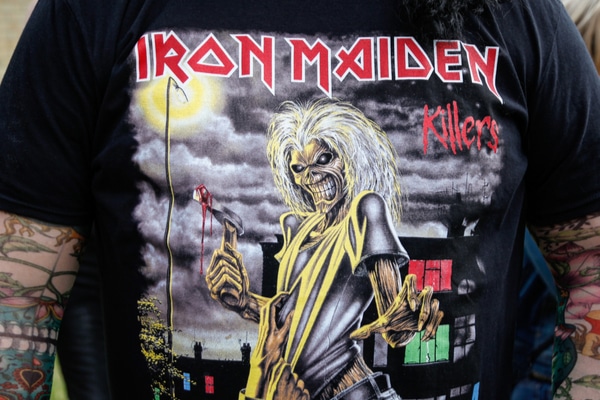 There is evidence to suggest that Iron Maiden are about to release details of a 17th studio album. It also appears to be associated with the title "Writing On The Wall" or "Belshazzar's Feast".
Hot Press magazine first reported that details could be released on July 15.
"Right in front of you" – Iron Maiden's Bruce Dickinson
Writer Edwin McFee noticed Iron Maiden's Bruce Dickinson wearing a t shirt with the words "Belshazzar's Feast" written on the front at a recent TV interview.
"I can't tell you what it is, but it's right in front of you", Dickinson said.
McFee also noted a range of Iron Maiden graphics which recently contained the slogan, "W.O.T.W", possibly standing for "Writing On The Wall", which is the Bible story also known as "Belshazzar's Feast". 

A few days ago, McFee tweeted a photograph of a rough design of a "Belshazzar's Feast" poster that was recently seen at the Download 2021 Pilot Festival which included the date "15/07". It also contained the letters "IMVXII". 
This could possibly refer to Iron Maiden and the Roman Numerals for 17.
"There are three titles – 'Live Forever,' 'Man or Beast' and 'Heaven or Hell", McFee wrote. "Could these be song titles or lyrics to new material?".
New @IronMaiden music coming July 15.. or have I completely lost the run of myself? Veerrrrrrry intrigued either way. pic.twitter.com/9COAs2AL77

— Edwin McFee (@edwinmcfee) June 28, 2021
"Belshazzar's Feast"
At this festival, singer-songwriter and Iron Maiden fan, Frank Turner was asked if he knew about this potential new album from the band.
While he did not reveal for definite if a new album was on the cards, Turner removed his hoodie to reveal "Belshazzar's Feast" on his t shirt, just like Dickinson.
An email address was also discovered on social media called "[email protected]".  There was also a Twitter account called @bels_feast which was run by a man called Daniel. It is also Daniel's book where the Bible story appears.
"I'm sure the fact that he only follows 16 accounts, all with a vague reference to 16 of Maiden's albums (so far!) like The X Factor and Killers is merely a coincidence", he wrote.
This Twitter account was messaged by an Iron Maiden fan who received this response.
I have received the following communication.@bels_feast #Belshazzarsfeast pic.twitter.com/P54ddSTwMJ

— L❄️gan Miller (@LoganTMiller) June 29, 2021
"The mystery of Belshazzar's Feast officially started on June 28 and will end 17 days later on July 15″, Edwin McFee added.
"Is that a cheeky reference to an impending 17th LP from the greatest metal band on the planet? You decide … but my excitement levels are at 666 percent!".
This news of a potential new album comes just days after it was confirmed that a manufacturing firm based in Texas called Igloo launched the Iron Maiden beer cooler.
More on that here.