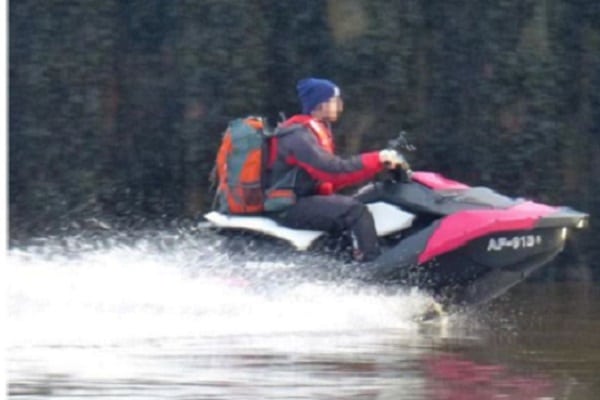 The ex girlfriend of the "Jet Ski Romeo" who travelled across the Irish sea to see her has been granted release to spend Christmas with her children.
Dale McLaughlin who is known as "Jet Ski Romeo" broke Covid rules to see his partner Jessica Radcliffe. Radcliffe lives on the Isle of Man.
The couple later split up last April. Jessica was then jailed for attacking a woman on the island. She was sentenced to eight months in prison.
Jessica and another woman were involved in a violent altercation which saw her kick and punch a woman as she screamed to her housemates to protect her children. Her children were upstairs at the time.
This woman was embroiled in an ongoing feud with Jessica and she was pulled upstairs by the duo.
She was released on 8 November, having served just three months and 21 days in prison. She had admitted to causing actual bodily harm, assaulting a police officer and criminal damage.
"even better than you can imagine" – Ex Girlfriend Jessica
Following her release, this statement was posted on Facebook.
"One thing I realised is that everything always ends up working out. Sometimes even better than you can imagine".
She added, "Remember this when you feel like you're in a hard place or you feel like you're being challenged the most".
"Jet Ski Romeo"
Former girlfriend Jessica Radcliffe was not the only one of the famous couple to see the inside of prison walls in 2021.
Her former boyfriend Dale McLaughlin aka "Jet Ski Romeo" spent almost €6,000 on a jet ski to see her.
McLaughlin made the 27 mile round trip from Scotland last December, despite having never ridden a jet ski before and not knowing how to swim. He was arrested for for breaking the island's Covid rules last year.
"I love Dale. How could I not after what he did?", Jessica had said following Dale's release.
While Dale added, "I would do it all over again".
Despite this, the pair later split up removing photos of each other on their respective social media accounts.