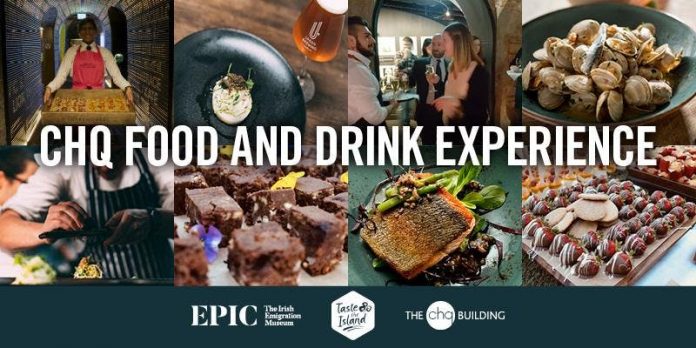 "Taste the Island" is bringing together a number of businesses within the CHQ Building to create a food and drink network for both locals and tourists alike to see and taste what Dublin's Docklands has to offer.
The CHQ launched its series of "Taste the Island" experiences tonight with a special event in EPIC The Irish Emigration Museum, recently voted Europe's Leading Tourist Attraction in the World Travel Awards.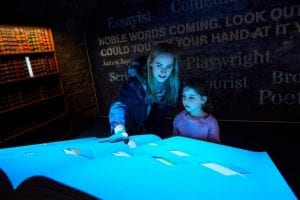 In the last section of the museum, which celebrates the influence of the Irish at home and abroad, there was a number of stands from each of the participating businesses in the CHQ Building, showcasing what they do and giving examples of what you will be able to experience when you visit their shop or restaurant.
Among the offerings up for tasting was Homemade white crostini with Castletownbere Crab, chilli, crème fraiche & pickled radish from Bakehouse. This was washed down with Green Spot Whiskey and Chinnery Gin and Tonic from Mitchell & Son Wine Merchants. ELY Bar & Grill had a selection of the finest Irish charcuterie meats and cheeses, sourced from local cheesemongers. And Stack A Restaurant at Urban Brewing satisfied the sweet tooth with a Bitter Chocolate Brownie, with walnut and Sea Salt Ganache, paired with Urban Brewing Whiskey Barrel Aged Red Ale.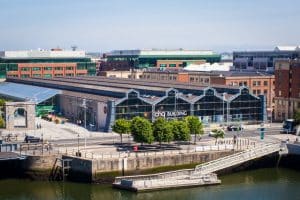 "Taste the Island" is a 12 week celebration and will highlight more than 600 food and drink related experiences taking place across the island developed by world-renowned Irish chefs, producers and craftspeople. The initiative is the first of its kind for Ireland and began with the well-known festival 'A Taste of West Cork' on September 6th and finishes on November 30th.
There are a number of events coming up for "Taste the Island" at CHQ including:
October 1 – Home Cooking: A History of Irish Food and Drink
Margaret Hickey, bestselling author of Ireland's Green Larder, will look at the way that the Irish who emigrated. brought with them attitudes to food and drink that they shared with their newfound neighbours. There will also be a traditional musical accompaniment on the night.
October 5 – Little Growers Workshop
Do you have a little chef or gardener on your hands? Or perhaps you know nothing about gardening, and want some guidelines on how to start your very own family patch? As part of Taste the Island, in this fun and messy workshop we will discover all about traditional Irish plants and recipes, before we paint and plant our very own pots and seedlings to take home.
October 9 and November 6 – CHQ Irish Food & Drink Experience
Similar to tonight, a number of CHQ eateries will create a food and drink experience for both locals and tourists alike to taste what Dublin's docklands have to offer.
All event TICKETS will be available on www.chq.ie