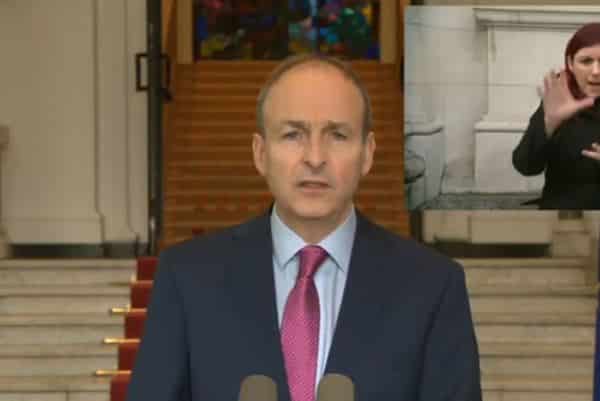 Cabinet has approved new Covid-19 restrictions to take effect from Christmas Eve.
The travel ban from the UK has also been extended until the end of the year.
Cabinet was warned the number of new cases today will be over 900 – the highest number since Halloween.
The new measures will be reviewed on January 12th.
"Unfortunately in the last week, we have seen extraordinary growth in the spread of the virus." He says figures suggest that we may now be seeing a daily growth rate of approximately 10%."
Micheál Martin has said that what we are doing now is saving lives. "Because of the sacrifices of so many, people are alive today who would otherwise not have been."
"It was important for people's mental health and wellbeing that there was some respite from restrictions that had been in place… and important that people had the chance to celebrate the Christmas period with their loved ones."
"A lot of people will be receiving today's news with a heavy heart; I know I bring it to you with one. But each and every one of us need to remember that while it may not feel like it, what we have done to date and what we are doing now is saving lives."
"As despondent as any of us might feel with the return of restrictions, it is important to remember that the hope is real. There is light at the end of the tunnel. Vaccines are on the way."
Ireland to receive nearly 10k vaccines this week and begin rollout in days before NYE
The Taoiseach has announced the following new restrictions:
From Christmas Eve until January 12th the country is returning to Level 5 with some adjustments.
Non-essential retail can stay open but sales events can't happen. Gyms and leisure centres open.
Further measures from Christmas eve until January 12th.
Hotels may only open for essential, non-social, non-tourist purposes.
Schools, early learning and childcare services remain open.
Higher, further and college education should remain online.
Further measures from Christmas eve until January 12th.
Non-contact training in pods of up to 15 may take place outdoors.
No matches and events should take place, except for professional and elite sports, and horse-racing and greyhound racing behind closed tours.
The following transitional arrangements will also apply for the Christmas period:
Restaurants and gastro-pubs will close from 3pm on December 24th.
Hotels may provide food and bar services to guests only after that point.
Visits from two other households to homes will allowed until December 26th.
Visits from up to one other household to homes will be allowed up to December 31st.
From January 1st, no visits are allowed in homes or gardens, except for essential family reasons.
Travel outside your county will be allowed until December 26th inclusive, but not thereafter.
Christmas religious services will go online from December 26th.