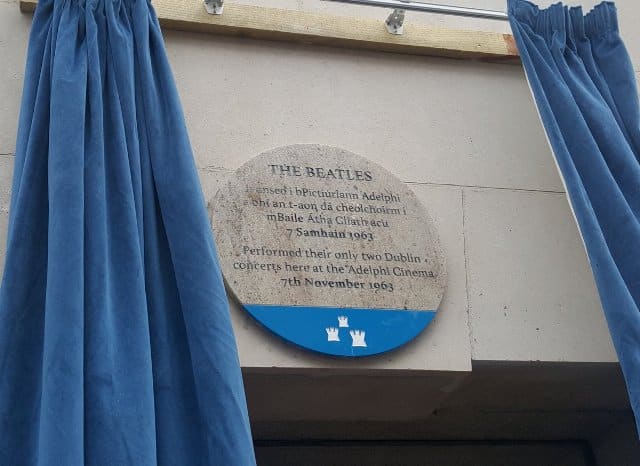 Dublin was gripped by Beatlemania on this very day back in November 1963 when The Beatles performed their only two concerts at the old Adelphi Cinema in the heart of the city.
As part of Dublin City Council's commemorative plaque initiative, Lord Mayor Nial Ring and broadcaster Gay Byrne unveiled a plaque to mark the event which took place 55 years ago today.
The unveiling ceremony took place in Middle Abbey Street, at the rear of Arnotts Department Store.  On the night of the 7th November 1963 thousands of fans thronged Middle Abbey Street in the vain hope of catching a glimpse of the fab four.
The Lord Mayor commented:
"The Beatles provided the background music to my (very early!) childhood and their visit here allowed Dubliners to experience something of the swinging 60's in our own city. I think it is very fitting that this plaque is now in place to mark the spot where thousands of people stood on that famous night in 1963. The Beatles popularity and influence continues today, and this commemorative plaque acts as a focal point for fans and all music lovers, to remember these four talented young musicians who all had Irish roots ("we're all Irish" John Lennon declared at the 1963 concerts) and who played here so early in their fantastic careers."
The unveiling ceremony takes place at 11.30 a.m. on Wednesday 7th November, 2018 and photos will be circulated to picture desks by Fennell Photography shortly after the event.
Speaking about the event, Alma Hanley, Arnotts General Manager said:
"We are delighted for this commemorative plaque to be erected on the back wall of Arnotts to remember the historic day that the Beatles played here. As we celebrate 175 years in business this year, we have been reflecting on our own history and the performance by the Beatles is one of the highlights. We hope than many Beatles fans will enjoy visiting the spot where they once played."
Éanna Brophy who, as a young journalist working with the Press at the time, covered the Adelphi shows says:
"I was the same age as Paul McCartney at the time (and still am!). I knew instinctively that there was something special about these newcomers. Little did I realise how special."