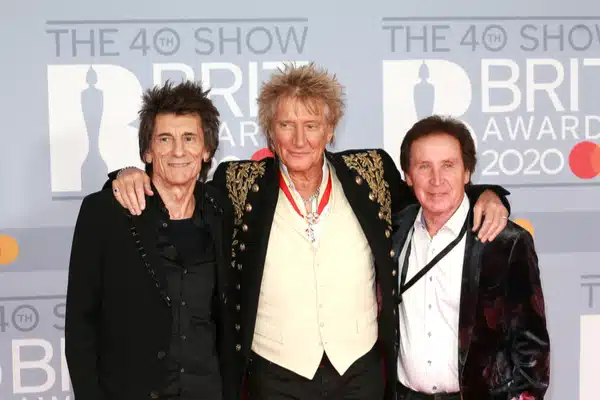 Having split up over four decades ago, Faces are reportedly recording new music.
Faces had been originally formed in 1969 from the ashes of Small Faces, before disbanding in 1975 when Rod Stewart left the group. The band recorded four studio albums, including "Ooh La La" in 1973.
The band's most recent reunion came at the 2020 Brit Awards. Rod Stewart, Ronnie Wood and Kenney Jones sang a live cover of "Stay With Me".
Check that performance out below.
The band's bassist Ronnie Lane passed away in 1997, while their founding keyboardist Ian McLagan died from a stroke in 2014.
Following McLagan's death, Rod Steward paid tribute to the keyboardist.
"Ian McLagan embodied the true spirit of the Faces. Last night I was at a charity do, Mick Hucknall was singing 'I'd Rather Go Blind', and Ron Wood texted to say Ian had passed. It was as if his spirit was in the room. I'll miss you mate", he said.
"Amazing rock'n'roll projects"
Guitarist Ronnie Wood claimed recently that he had met up with Rod Stewart and Kenney Jones. He also revealed that he had been in touch with Mick Jagger on a separate project.
Along with Faces, Wood also said that he and Jagger are working on the reissuing of the band's album Tattoo You, marking 40 years from its original release.
Wood is excited about these ventures, calling them "amazing rock'n'roll projects".
"Me and Mick have done nine new tracks for the [40th anniversary] re-release of 'Tattoo You', Wood said. "And me, Rod and Kenney have been recording some new Faces music". 
"I've had a front-row seat on some amazing rock'n'roll projects these past couple of weeks".
Back in April, Ronnie Wood had also revealed that he had been battling cancer during the last Covid-19 lockdown.
Wood who was originally diagnosed with lung cancer in 2018, has revealed that he had been given the all-clear for an aggressive form of small scale cancer.
Wood said staying sober for 10 years, and the concept of the "higher power" helped him in his most recent cancer battle. Find out more on this here.