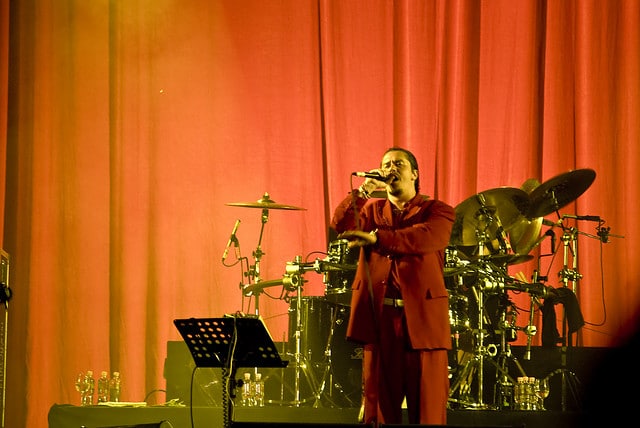 Faith No More plan to release their first album in over 18 years, the band officially revealed that they'll put out a new LP in just over three months time.
The American rockers are completing work on a new record titled Sol Invictus, their first since 1997′s Album of the Year, due out in mid-May 2015.
Back in May 2014, the group tweeted a cryptic message, teasing the possibility of a new album. This was epic news for fans of the band, who've waited nearly two decades for a new record.
Faith No More are releasing their new track titled 'Superhero' to coincide with Record Store Day. The upcoming single will be available as a limited-edition 7-inch on March 17th and digitally on March 31st.
Bassist Bill Gould, told Rolling Stone the project is pretty far along and has been about a year and a half in the making. The guys have been holed up in a rehearsal space in California, working on material for the upcoming release. "We live in different cities and all have other things going on, so it's a matter of checking in and focusing and working little by little," Gould said.
"We weren't touring, we have these songs that we were working on — that we think are pretty cool — and why don't we just do our own imprint and kind of reclaim our future, in a way? We own the future more than we ever have," he said.
When asked about the band's sound, Gould said, "What I can say is that I think through our experience as musicians over the years, I think what we're doing reflects where we've gone since we made our last record as Faith No More. I think this kicks things up a notch. And I think there's parts that are very powerful and there's parts that have a lot of 'space'. Everything we do, with our chemistry, the way we play; it's always going to sound like us. It's just what we do, that makes us feel good. Hopefully it doesn't sound like a bunch of 50-year-old men… which we are!"
Faith No More have also announced a new world tour, however the dates outside of North America are very sporadic.
Listen to Faith No More's first single titled 'Motherf**ker' below.
Faith No More tour dates:
02-17-18 Tokyo, Japan – Studio Coast
02-21 Adelaide, Australia – Soundwave Festival
02-22 Melbourne, Australia – Soundwave Festival
02-28 Sydney, Australia – Soundwave Festival
03-01 Brisbane, Australia – Soundwave Festival
03-03 Auckland, New Zealand – Westfest
04-15 Vancouver, British Columbia – PNE Forum
04-16 Seattle, WA – Paramount Theater
04-17 Portland, OR – Keller Auditorium
04-19-20 San Francisco, CA – Warfield
04-23-24 Los Angeles, CA – The Wiltern
04-25 Santa Ana, CA – The Observatory
05-07 Chicago, IL – Concord Music Hall
05-08 Detroit, MI – The Fillmore
05-09 Toronto, Ontario – Sony Centre for the Performing Arts
05-11 Boston, MA – Orpheum Theatre
05-13-14 New York, NY – Webster Hall
05-15 Philadelphia, PA – Electric Factory
05-29 Nurburgring, Germany – Grune Holle Festival
05-31 Munich, Germany – Rockavaria Festival
06-02 Milan, Italy – Sonisphere
06-04 Vienna, Australia – Vienna Rocks Festival
06-05 Hradec Kralove, Czech Republic – Rock For People Festival
06-12 Landgraaf, Netherlands – Pinkpop Festival
06-13 Donington, England – Download Festival
06-20 Clisson, France – Hellfest
06-21 Dessel, Belgium – Graspop Festival
08-07-09 Montreal, Quebec – Heavy Montreal
*Image Silvio Tanaka*