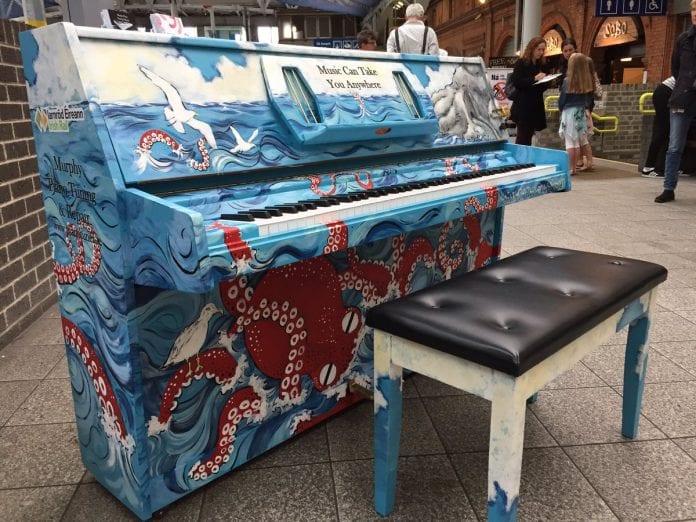 A piano has just been installed in Pearse Street Station this morning in an attempt to lift commuters' spirits on their way to work. Commuters will now have the chance to practice their scales and arpeggios on the Southbound platform before settling into the office.
The new addition to the station comes from Iarnród Éireann in conjunction with piano tuner John Murphy. The piano is beautifully decorated by NCAD graduate and Waterford-native artist, Sarah Edmondson. An underwater scene including a large octopus covers the piano – sea creatures being a speciality of Edmondson's work. She says that the underwater scene has been inspired by the DART's coastal journey.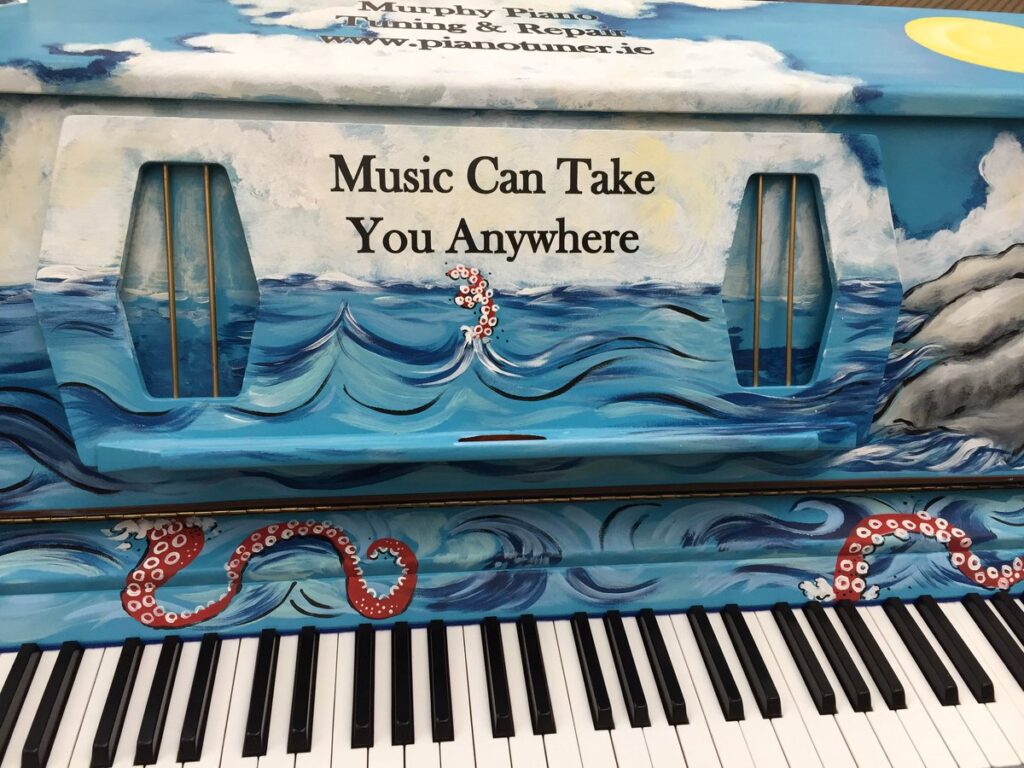 Image: @IrishRail via Twittter
We have John Murphy to thank for the beautiful new piano, who approached Iarnród Éireann with a proposal of bringing the instrument to the station. Which was met with open arms by the rail company. Given the go-ahead, Murphy found the piano online and began restoring it in his own workshop in East Wall. He had the following to say at the installation this morning:
"Public pianos have been introduced at train stations in London in recent years. I wanted to bring the idea to Dublin to promote music and disrupt the traditional view of the piano as an inaccessible instrument. You don't need to be a Jools Holland or a Mozart. If you can play at all you have the ability to brighten up someone's day. Music has the power to take you anywhere you want to go."
Pearse Station Manager, Mick O'Grady said of the new addition: "We are delighted to work with John Murphy to bring this piano to Pearse Station. It will be a great amenity for our customers and I'd encourage as many of them as possible to give us a tune!"
Iarnród Éireann have encouraged commuters to share their experiences of the new piano through posting photos and videos on social media with the hashtag #pearsepiano.
Some of the first commuters to do just that this morning were Eavan, Aela and Siún O'Sullivan who all attend the neighbouring Royal Irish Academy of Music.
The audience has gathered in #PearseStation #pearsepiano #musiccantakeyouanywhere @irishpianotuner pic.twitter.com/v8o4PQpaic

— Iarnród Éireann (@IrishRail) September 7, 2017
Video: @IrishRail via Twitter
The piano will be a permanent feature at the station and commuters are free to use it while they wait for their train! News like this is celebrated here at Nova, so we encourage you all to have a go and do your best Elton John impression with your songs.
Photo Credit: Iarnród Éireann via Twitter