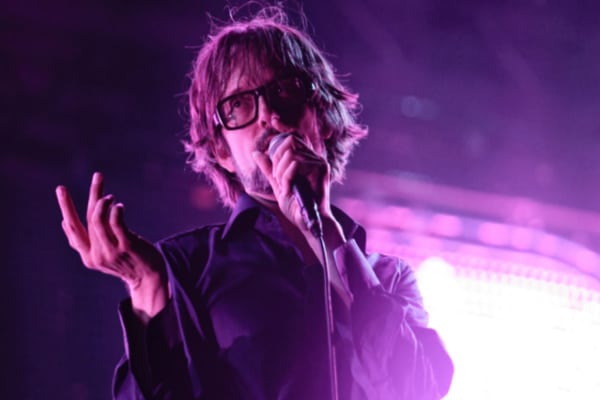 Jarvis Cocker has shared a very mysterious post via Instagram, which has got tongues waggling. With fans speculating about a possible Pulp reunion.
Shared via Cocker's Instagram, the 15 second clip is also soundtracked by a round of applause, as the following words appear on screen, "What exactly do you do for an encore?".
This is a line which also features on Pulp's hit, 'This Is Hardcore', with the track's 25th anniversary coming up next year.
Adding the hashtag #overtoyou, Cocker also added the caption, "Good question….".
You can check out the post for yourselves from Cocker here. This Instragram post has also led to fans speculating over a possible Pulp reunion.
"25 years since this is hardcore next year….. tour?? Yes? Please say yes", one fan wrote.
While another added, "wait is this a reunion post???".
"a satisfying end"
The last Pulp reunion show took place in December 2012, where they played to gigs at Sheffield, followed by two shows aborad in the SS Coachella Cruise.
Speaking in 2020 about these reunion shows, Jarvis Cocker had this to say.
"We got back together in 2011 and 2012 and we did quite a lot of shows and for me, that really brought that chapter to a satisfying end", he said.
He continued, "We rehearsed for quite a long time and I think we've managed to play the songs convincingly and authentically, and by that I just mean that we managed to locate what the songs were about. They still rang true".
"I thought it was pretty much a perfect tour, really; and that was a good end to that. But then I just had to try and think about what I would do after that".
2020 also saw the 25th anniversary of Pulp's track 'Common People'. Released in 1995, the track reached number 2 in the UK charts. More on this from Nova here.