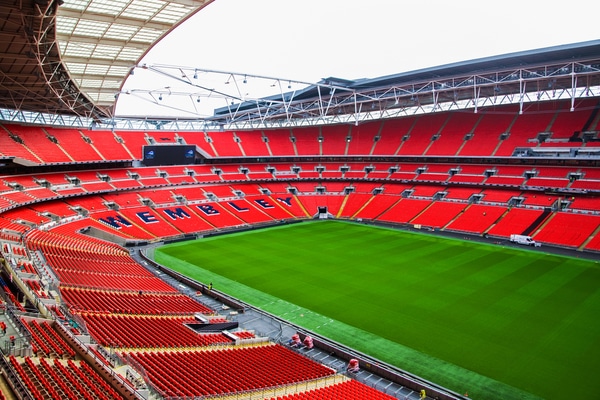 Crowd capacity at Wembley Stadium has been raised to accommodate more than 60,000 fans for the semi-finals and final of Euro 2020. The announcement made by the UK government will see an increase in attendance to at least 75% capacity, the highest since at a UK sporting event in 15 months.
Until now, only 22,500 fans (25% of its capacity) were permitted to enter the stadium for England's Group D matches. However, matches at Wembley, and some other sporting events, will be allowed extra crowd capacity under its Events Research Programme, despite the UK government postponing lifting all restrictions until July 19th.
It is not clear exactly how many fans will be let through the turnstiles, but the culture department (DCMS) said attendance would be increased to "75% capacity", which is 67,500. According to reports, the World Health Organisation is "concerned" about lockdown restrictions easing in countries hosting Euro 2020 games, with fears around the number of fans allowed into stadiums.
Strict entry requirements will be set in place for fans attending the games, including proof of full vaccination or, a negative COVID-19 test, 14 days before the fixtures. However, WHO official Robb Butler told reporters that the organisation "is concerned about easing of restrictions in some of the host countries".
"A few of the stadiums hosting the tournament are now increasing the number of fans allowed in the stadium to watch a game. In a few of the host cities, COVID-19 cases are already on the rise in the area where matches will be held.
"Learning from experience, we must act fast on signals showing increasing cases – expanding testing and sequencing; stepping up contact tracing; and building very high vaccine uptake fast among those vulnerable and most at risk."
Culture Secretary Oliver Dowden said, "rigorous and tight public health measures remain in place", while allowing "more fans to see the action live". He added: "The finals promise to be an unforgettable moment in our national recovery from the pandemic." Meanwhile, London Mayor Sadiq Khan said the matches will "show that when it comes to great sporting events, London simply cannot be beaten".
Some matches were originally due to take place in Dublin, before UEFA stripped Ireland as hosts. The government was reluctant at the time to give assurances to UEFA about the amount of fans it could allow in by the time the tournament starts, due to the COVID-19 pandemic.