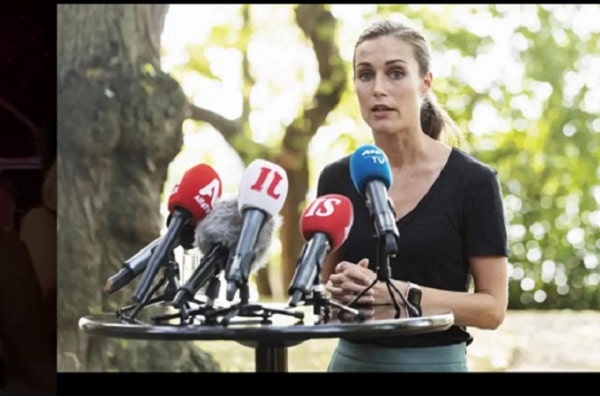 Finland's Prime Minister Sanna Marin has submitted a drugs test after videos of her twerking and grinding went viral.
The PM has found herself in hot water after clips of her dancing "intimately" with an unknown man circulated online.
Footage showed Marin dancing and singing with a host of Finnish celebrities. She was also spotted drinking with friends in an apartment.
Sanna Marin was later spotted dancing with an unknown man in the nightclub in further footage.
The Finnish media outlet 'Seiskia' also reported that Marin was "visibly drunk" along with several pals at the Teatteri nightclub. Footage also show the unknown man with his arms around Marin's lower back, and lips close to her neck.
Since then Marin has revealed that she has now taken a drugs test, after someone could be heard shouting "flour gang" at the nightclub, where she was dancing with friends. The word "flour" is also a slang term for cocaine in Finland.
Finland's Prime Minister @MarinSanna is in the headlines after a video of her partying was leaked today.

She has previously been criticized for attending too many music festivals & spending too much on partying instead of ruling.

The critics say it's not fitting for a PM. pic.twitter.com/FbOhdTeEGw

— Visegrád 24 (@visegrad24) August 17, 2022
Finnish PM Denies Any Wrongdoing 
Denying any wrongdoing, the Finnish PM stated that she "resents" the footage becoming public.
"I'm disappointed that it has become public", she said. "I spent the evening with friends. Partied, pretty wild, yes. Danced and sang". 
"I have not used drugs myself, or anything other than alcohol", she insisted. "I've danced, sung and partied and done perfectly legal things". 
"I have also not been in a situation where I would know that others are doing it that way". 
Hailed as the "coolest politician in the world", Sanna Marin is no stranger to letting her hair down. Last year, she was forced to apologise for clubbing at 4am, having been in contact with a Covid positive minister.
Marin had claimed that she was told that she was not required to isolate, as she was fully vaccinated.
She also appeared in an interview for lifestyle magazine Trendi, wearing a blazer but nothing underneath.
Known for her anti-Russia stance, her supporters have also claimed that her reputation is being sabotaged by Valdimir Putin as an attempt to undermine her integrity.
Sanna Marin is married to husband Markus Räikkönen, and the couple have a four year old daughter together.