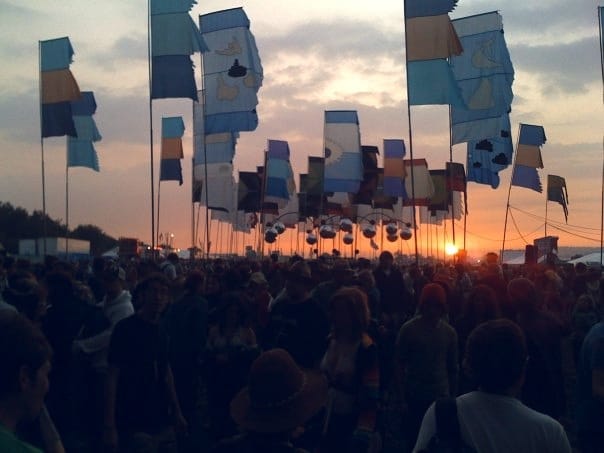 Glastonbury organiser Michael Eavis has dashed the hopes of many fans by ruling out Queen and Fleetwood Mac from the 2015 festival.
Both groups were among the bookies favourites to headline the Pyramid Stage at Glastonbury next year.
Tickets for the 2015 event went on sale earlier this month, selling out in record-breaking time. The 2015 festival sold 120,000 tickets in just 26 minutes.
People had been hoping that because Fleetwood Mac's upcoming UK tour takes place around the same time as the festival, it was a sign the band would play Glasto.
Singer Stevie Nicks acted pretty coy when discussing the 2015 event, "Glastonbury? You never know. You have to weave festivals in. It's being discussed."
Sadly it appears that neither Fleetwood Mac or Queen will be performing. Eavis addressed the speculation on the current favourites saying, "Queen? Not Queen, no. Fleetwood Mac don't seem to be available at the moment. But we've got three excellent headliners for next year… one has been around for a long time."
The Glasto organiser did confirm that one of the three artists has "been around for a long time" and that all three names will be announced on April 1st 2015.
Glastonbury 2015 takes place from June 24th-28th, with other rumoured acts including Foo Fighters, Depeche Mode, Kate Bush, Queen, Muse, Prince, Oasis, Rihanna, U2, AC/DC, Coldplay and Motown Legend Diana Ross.
The organisers of Glastonbury have also banned the sale of Native American headresses for next year's festival.
The bookies favourites are:
AC/DC (5/1)
Muse (5/1)
Kate Bush (8/1)
Oasis (8/1)
Coldplay (10/1)
Noel Gallagher's High Flying Birds (10/1)
Radiohead (10/1)
The Stone Roses (10/1)
U2 (10/10
Elton John (12/1)
Foo Fighters (12/1)
Iron Maiden (12/1)
Prince (12/1)
Daft Punk (16/1)
Elbow (16/1)
The Libertines (16/1)
Arctic Monkeys (20/1)
David Bowie (20/1)
Linkin Park (20/1)
Red Hot Chili Peppers (20/1)
Adele (25/1)
Robert Plant (25/1)