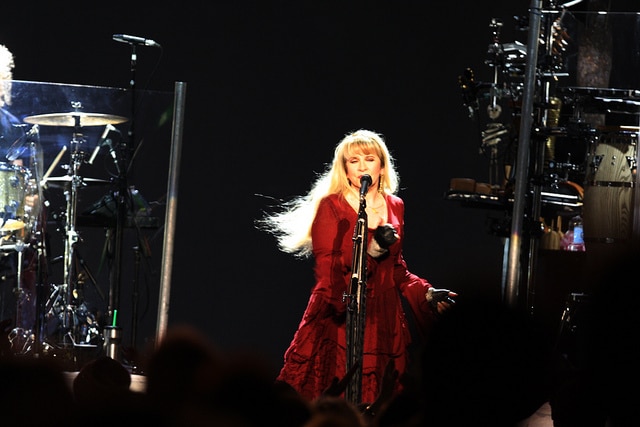 Fleetwood Mac returned to the stage to play their first full set with Christine McVie since 1997.
The tour kicked off at the Target Center venue in Minneapolis in front of 17,000 adoring fans.
The band's 24-song set featured tracks from all eras of their career, including 'The Chain,' 'Don't Stop' and 'Gold Dust Woman'.
Christine McVie was welcomed back onto the stage by her band mates, "our songbird has returned," Mick Fleetwood said. During her time with the group, Christine wrote 'Little Lies', 'You Make Loving Fun', 'Everywhere' and 'Don't Stop'.
She retired in 1997 due to a phobia she developed, which was later treated with psychotherapy. She had a fear of flying and this was the reason she decided not to continue with Fleetwood Mac after 1998.
Lindsey Buckingham described McVie's return as "a beautiful, profound, poetic new chapter now that this lady is back with us. And it's a chapter that is going to go on for a while. A chapter that is going to yield much fruit. We are very, very excited."

McVie told the crowd, "It's a dream come true, a chance you don't often get in life."
Lindsey added, "This is a band that continues to evolve through good times and adversity. This is just, I guess, the latest chapter."
Fleetwood Mac are touted to be the headlining act for next year's Glastonbury Festival.
Watch the band perform 'The Chain' and 'Say You Love Me' below.
The full set list for the show is as follows:
'Chain'
'You Make Lovin Fun'
'Dreams'
'Second Hand News'
'Rhiannon'
'Everywhere'
'I Know I'm Not Wrong'
'Tusk'
'Sisters of the Moon'
'Say You Love Me'
'Seven Wonders'
Acoustic Set:
'Big Love'
'Landslide'
'Never Going Back'
Full band:
'Over My Head'
'Gypsy'
'Little Lies'
'Gold Dust'
'I'm So Afraid'
'Go Your Own Way'
Encore:
'World Turning'
'Don't Stop'
'Silver Springs'
'Songbird'