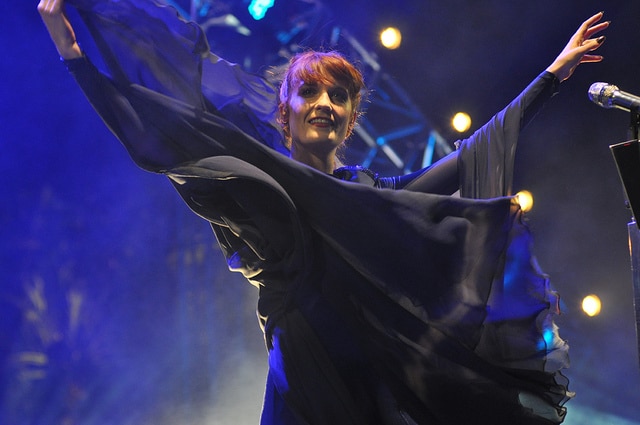 The Florence and The Machine frontwoman Florence Welch, has spoken about trying to keep her sanity in between making records.
The singer chatted to BBC Radio 1 DJ Zane Lowe about the "chaotic" year making her new album.
The English indie group will release their upcoming LP titled, How Big, How Blue, How Beautiful, on May 29th.
Florence and The Machine's last record titled Ceremonials, was released over three years ago and the follow up has been in the pipeline for quite some time.
The band took no break during the making of the first two records. "Cermonials and Lungs all blurred together, we didn't take any time off."
Florence spoke about the "up and down" years since the last LP. "It was a decision to have a year off," adding that she had "a bit of a nervous breakdown… It was a bit of a crash landing in a sense… In the year off, I was still going out and going to events but something wasn't quite right, I was spiralling a bit. I wasn't making myself happy. I wasn't stable."
During the interview, she didn't shy away from her "on and off relationship with drinking," which fueled her "up and down chaotic" year. "It was a really vulnerable time for me when we first started making the record and because of that it's the most personal record I've ever made."
How Big, How Blue, How Beautiful is due to be released on May 29th. The record was by Markus Dravs, who previously worked with Arcade Fire on their albums Neon Bible, The Suburbs and Reflektor. As well as producing Bjork, Mumford & Sons and Coldplay's Viva la Vida or Death and All His Friends.
"When I went to meet Markus, we were talking about this idea of space and this idea of something earthier. Ceremonials was this glacial wall of sound." Florence joked that Markus told her: "You're not allowed to write any more songs about water! But I did get one in there – 'Ship To Wreck' is about water, but it's not so explicit!"
"I felt he had that balance of organic and electronic capabilities, managing those two worlds. And, you know, he's good with big sounds. And l like big sounds. And he's good with trumpets, and I knew I wanted a brass section on this record."
Florence and The Machine are rumoured to be playing Glastonbury, Reading and Leeds festivals and hopefully Electric Picnic in 2015.
How Big, How Blue, How Beautiful track list:
Ship To Wreck
What Kind Of Man
How Big How Blue How Beautiful
Queen Of Peace
Various Storms & Saints
Delilah
Long & Lost
Caught
Third Eye
St Jude
Mother