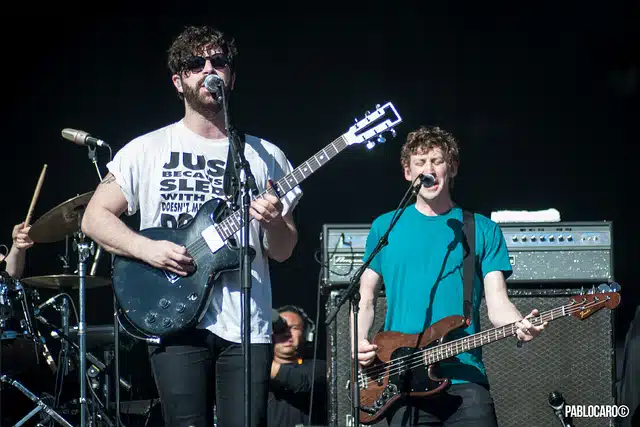 Foals have released a new video for their newest single 'A Knife In The Ocean'. The video is a lyric video for the song, with the official music video to be released in the near future.
The track will feature on Foals' forthcoming fourth album What Went Down, which is due out August 28. The LP was recorded in the south of France with Simian Mobile Disco's James Ford (Arctic Monkeys, Klaxons, Mumford & Sons).
Speaking about the new album, frontman Yannis Philippakis spoke about how he approached it saying "I wanted to tap into my inner madman and feel like I was channelling some sort of fevered creature."
This is probably most apparent on the title track 'What Went Down' which was released last month. It has that same type of animalistic energy that Yannis spoke about. The band's newest track 'A Knife In The Ocean' isn't dissimilar to it, with it's aggressive chorus.
Foals also recently released another track 'Mountain At My Gates' which is a lot poppier in terms of its production. These three tracks are a good indication of what to expect with the new album which Yannis has described as "weirder, poopier and heavier" than any of their previous albums.
Photo Credit: Pablo Caro