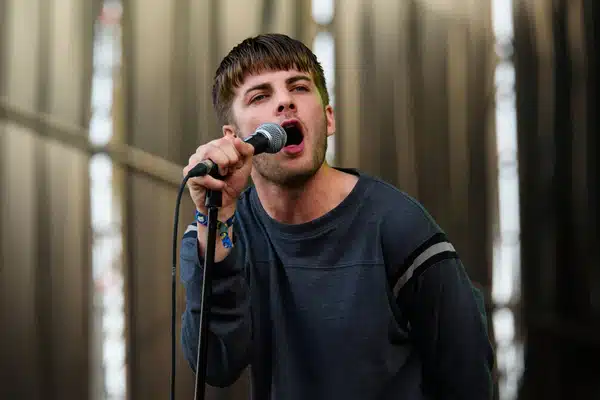 Fontaines D.C. get political on their new single.
The Dublin band have released a new single, I Love You, ahead of the April 22nd release of their latest album, Skinty Fia.
Frontman Grian Chatten describes I Love You as "the first overtly political song we've written."
The song's lyrics are from the point of view of an Irish emigrant looking back at the country they left with a mix of fondness and contempt.
In one line the band attacks Ireland's political leaders, singing "I will tell them 'bout it all About the gall of Fine Gael and the fail of Fianna Fáil."
"It's like the most normal title ever," Chatten said of I Love You. "I wanted to write a song called 'I Love You' because I thought that it was a challenge that interested me to write a song about so kind of an ostensibly cliché topic and attempt to make it interesting and my own, unique. It just turned out to be another song about Ireland, of course. I kind of feel like it's in two parts. Spiritually, there are two parts to it. I'm in a position there where I've made something of a career from trying to connect with and render the culture and country that I come from and try and express it and in turn and in doing so, understand it myself and help other people understand it. That's what I think I'm doing."
Chatten recognises the conflict of writing about his homeland while living in another country.
"I've moved from that country," he said. "I'm now living in a country that is responsible for a lot of the chaos in the country that I'm from, that still kind of looks down on that country. I feel guilty for having left. I feel like I've abandoned Ireland to some extent. Not that it can't survive fine without me, but I feel like I've taken all this crap from it creatively, and then I've just left. I have this kind of strange feeling of guilt toward my leaving of Ireland."
Guitarist Conor Deegan previously expressed frustration following the results of the last general election, so perhaps it's no surprise that Fontaines D.C. have taken a shot at Ireland's two main political parties.
"It's just shocking that the political parties, Fianna Fáil and Fine Gael, have gotten away with ignoring the signal for change that was given in the election result – whatever you say about how you feel about Sinn Féin," Deegan said while promoting Fontaines D.C.'s 2020 album A Hero's Death.
You can watch the video for I Love You below.