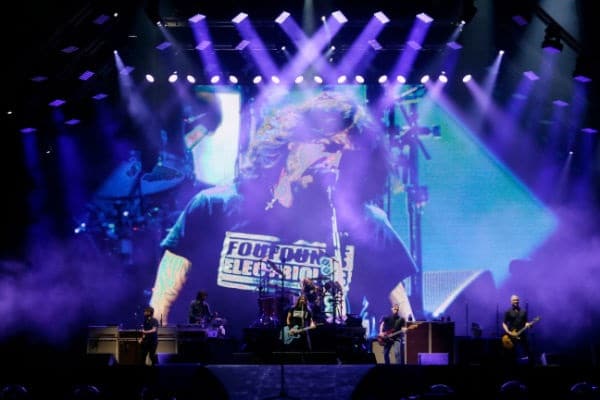 Would you like to listen to the article instead of reading it?
Foo Fighters have announced that their much aniticipated UK Tour will take place next year.
Kicking off in 2024, the tour will see Foo Fighters support their latest album, 'But Here We Are', their first album released since the death of their drummer Taylor Hawkins.
The band confirmed the news regarding their UK Tour plans via their official website, kicking off in 2024.
"Foo Fighters will tour the UK in 2024"
Foo Fighters revealed that they will tour the UK next year, via a shared update on their website, with the message originally stating, "Pre-order any format of 'But Here We Are' for pre-sale code access to forthcoming and soon-to-be-announced UK live dates".
However, yesterday (June 6), Foo Fighters added this updated message, "Foo Fighters will tour the UK in 2024. Order 'But Here We Are' from the official store by Thursday for pre-sale code access to the forthcoming live dates".
Elsewhere, fans of the band did notice that a more subtle link, where you can register for pre-sale access without purchasing. Check that out here.
𝗙𝗢𝗢 𝗙𝗜𝗚𝗛𝗧𝗘𝗥𝗦 𝗪𝗜𝗟𝗟 𝗧𝗢𝗨𝗥 𝗧𝗛𝗘 𝗨𝗞 𝗜𝗡 𝟮𝟬𝟮𝟰

Order new album before 3pm this Thursday for presale code access to the forthcoming live dates! https://t.co/ov0TyUQE0x pic.twitter.com/4WRDiveMfZ

— Foo Fighters UK (@FooFightersUK) June 6, 2023
Earlier, Foo Fighters seemingly confirmed plans to perform at this year's Glastonbury Festival, under the elusive moniker 'The Churnups'.
"Hey, it's been a while", they wrote. "Now that we've returned from our first run of shows, I felt compelled to reach out and thank you all for being there for us".
"Every night, when I see you singing, it makes me sing harder. When I see you screaming, it makes me scream louder. When I see you your tears, it brings me to tears. And when I see your joy, it bring me joy. But, I see you… and it feels good to see you, churning up these emotions together".
Last month, John Freese was also confirmed as the new drummer of Foo Fighters. This was announced during their special livestream event. More on this here.