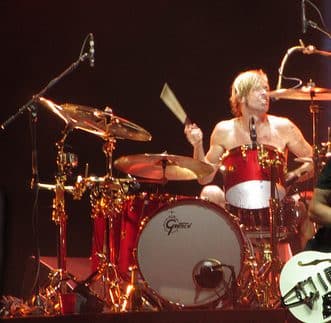 Foo Fighters are taking over this week's Late Show With David Letterman, they kicked off their week-long residency with a storming rendition of Black Sabbath's 'War Pigs'.
The rockers will be performing over the next five nights on the American chat show.
The band will be accompanied on stage every night by special guests.
Last night they were joined by Zac Brown, lead singer of the American country-folk group Zac Brown Band based in Atlanta, Georgia. Brown appears on the Foo's new album Sonic Highways.
The lads combined to play a thunderous cover of the famous 1970 song. Sonic Highways will be released on November 7th and is the band's eighth studio LP. The new record clocks in a 44 minutes and features eight new songs.
The group will premiere 'Something From Nothing', the first song to be taken from upcoming album on Thursday night.
Foo Fighters are airing a six episode documentary on the BBC later this month, also named 'Sonic Highways'. In the series, the American rockers document the making of their new record. It will air on BBC Four on October 26th.
Watch Foo Fighters cover Black Sabbath's 'War Pigs' below.
Sonic Highways track list:
1. Something From Nothing
2. The Feast and The Famine
3. Congregation
4. What Did I Do?/God As My Witness
5. Outside
6. In The Clear
7. Subterranean
8. I Am A River
Grohl also sat down with Letterman to discuss the creation of Sonic Highways.