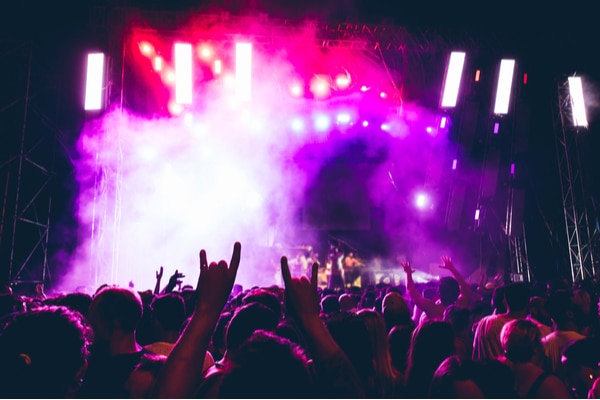 MSG Entertainment recently announced the Foo Fighters will shake the famed Madison Square Garden with a concert on June 20th. The concert will mark the venue's first show in more than 460 days due to the pandemic's cancellation of all things 'craic'. However, sections of fans have been sharing their view on the 100% vaccinated gig on social media.
Organisers say the Foo gig will be its first at 100% capacity since the pandemic and will be held for vaccinated audience members only. The rock group will reopen New York's Madison Square Garden with the venue's first full attendance since March 2020.
The show is part of the group's newly announced 26th anniversary tour as they promote their latest album, Medicine At Midnight. The album debuted at #1 in several countries, including Ireland and the UK, while entering the US charts at #3 on the Billboard 200.
"We've been waiting for this day for over a year," the Foo Fighters have claimed. "And Madison Square Garden is going to feel that HARD. New York, get ready for a long ass night of screaming our heads off together to 26 years of Foos."
According to venue policy, "guest will need to be fully vaccinated for the Foo Fighters show at The Garden, meaning the event must be at least 14 days after your second dose of Pfizer-BioNtech or Moderna COVID-19 vaccine or at least 14 days after your single dose of Johnson & Johnson's Janssen COVID-19 vaccine. The only exception is for children u der the age of 16, who may provide proof of a negative antigen COVID-19 test, negative PCR COVID-19 test or full vaccination and are accompanied by a vaccinated adult."
Although the concert has been met with some applause, there have been many (previous) fans who are vehemently against such a show. Mixed reporting on the vaccine has led some people to be cautious over accepting one, and some other vulnerable people cannot take it due to complications. As a result of the announced Foo Fighter gig, some people took to social media to defend and decry the upcoming show.
Music is meant to build bridges, not destroy them.

— Right Said Fred (@TheFreds) June 10, 2021
I'll never buy another ticket to a @foofighters concert.

Not all people that choose to NOT vaccinate are conspiracy theorists. Some people, very close to me, have autoimmune conditions that make the vaccine a high risk proposition.

"Vaccine mandatory" is 2021's "whites only." https://t.co/LDuwzw140V

— Josh Denny (@JoshDenny) June 9, 2021
Can someone explain to me how an unvaccinated person is a thread to a vaccinated person? Scary that we now have different rules for people based on their vaccination status. Sad.

— Lee🤡Tourneau (@Lee_Tourneau) June 8, 2021
Never thought the Foo Fighters would support suppression, segregation, and discrimination.
It's strange times.

— NPK (@NamepleaseK) June 9, 2021
However, many others have expressed their support for the show's vaccination policy, coinciding with New York Governor Andrew Cuomo's recent announcement. All shows at 100% capacity must have a fully vaccinated audience.
"A big thumbs up to my favourite band for doing this," said one user. "I genuinely don't see a problem with this, and double bonus points for pissing off the anti-vax morons," said another.
Foo Fighters have said they're going to play a gig but only for those who have been vaccinated. I genuinely don't see a problem with this, and double bonus points for pissing off the anti-vax morons.

— Steve McHugh (@StevejMchugh) June 10, 2021
Foo Fighters have somewhat been at the forefront of this pandemic, looking to spread cheer through the love of music. The band have previously held a number of fundraisers and livestreams throughout the last year, including their recent appearance at Vax Live: The Concert To Reunite The World. The event raised £214million to support worldwide vaccination efforts.