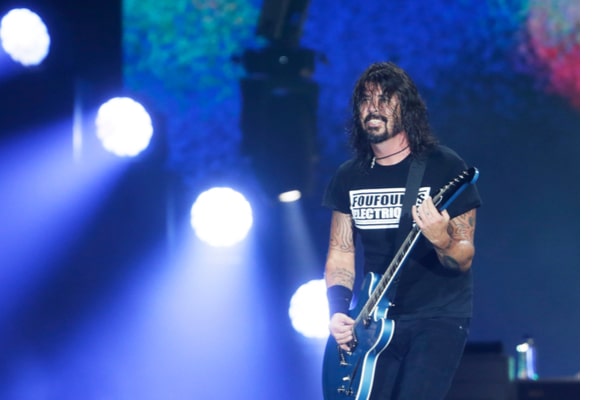 It was reported that the remaining members of Foo Fighters have returned to LA from Columbia following the tragic death of Taylor Hawkins.
TMZ shared several photographs of the band returning home. One such photo also shows a clearly emotional Dave Grohl who appeared to be embracing the band's manager John Silva.
Taylor Hawkins died aged 50 last Saturday. It had been reported that a combination of opiates, anti depressants and marijuana and other drugs were found in his system.
"musical spirit and infectious laughter"
Confirming his death, the band had released this statement.
"His musical spirit and infectious laughter will live on with all of us forever. Our hearts go out to his wife, children and family, and we ask that their privacy be treated with the utmost respect in this unimaginably difficult time", they said.
— Foo Fighters (@foofighters) March 26, 2022
Foo Fighters had been touring South America and were due to perform last Friday at the Picnic Stereo in Bogota. The show was cancelled following Hawkins' death.
Having performed at Lollapalooza Chile on March 18, and Lollapalooza Argentina on March 20, the band were scheduled to perform at Lollapalooza Brasil yesterday.
"heartbroken"
Hawkins' death has sent seisimic shockwaves around the music world, with the likes of Brian May, Ozzy Osbourne, Tom Morello, Mike Portnoy, Billy Idol and Paul Stanley paying tribute.
Have a look at them here.
Last year, Foo Fighters frontman Dave Grohl spoke about working with Taylor Hawkins."We were at some radio show backstage, and he came up with a beer in his hand", Grohl said in 2021.
"He's like, 'Hey, man, what's up? I'm Taylor. I play with Alanis Morissette. Dude, I love your record. It's so cool!' He was such a spaz. I was, like, 'Wow, you're either my twin or my spirit animal or my best friend.' In the first 10 seconds of meeting him".
During their last performance with the drummer, Hawkins said, "I f*****' love Dave Grohl. I'd be delivering pizzas if it wasn't for Dave Grohl. I'd be managing the drum department at a Guitar Center if it wasn't for Dave Grohl".
Meanwhile, Elton John also paid a special tribute to Hawkins. See here.