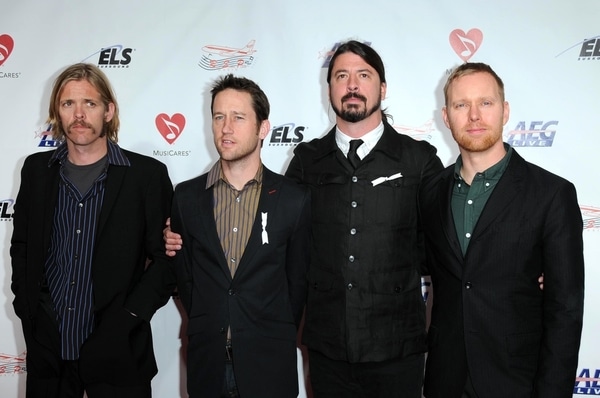 Foo Fighters have dropped a surprise new track.
Subscribers to Foo Fighters' official YouTube channel were greeted with a thrash metal track titled March of the Insane by a band calling themselves Dream Widow.
It seems Dream Widow is the evil alter-ego of Foo Fighters from their upcoming cinematic debut Studio 666.
Sounding closer to Ministry than anything Foo Fighters have done in the past, March of the Insane is a riff-shredding metal banger with Dave Grohl adopting a throaty growl.
You can listen to March of the Insane in the video below.
In Studio 666, which opens in Irish cinemas on February 25th, the members of Foo Fighters play themselves as they check into a haunted California mansion to record their new album.
"The premise of the movie is that we move into this house, I have writer's block, I'm totally uninspired, I can't come up with anything," Grohl recently explained to Howard Stern. "And I wind up finding this creepy basement. And I go into the basement, I find this tape by a band from 25 years ago that recorded there. And there's this song that, if recorded and completed, the fucking demon in the house is unleashed, and then, whatever, all hell breaks loose."
Dream Widow is the band Grohl is referring to, so we're guessing March of the Insane is the track that turns Grohl to the dark side.
"We come in 25 years later to record, having no idea what happened 25 years ago, and I start becoming possessed by the spirit of the guy from 25 years ago and the spirit of the house," Grohl continued. "But this song, 'March of the Insane,' this is their lost record. This is the record they were making before their singer murdered [them]."
The YouTube description for the video claims March of the Insane is from Dream Widow's "never released self-titled album."
Along with the Foo Fighters lineup of Grohl, Taylor Hawkins, Nate Mendel, Pat Smear, Chris Shiflett and Rami Jaffee, Studio 666 also stars Whitney Cummings, Leslie Grossman, Will Forte, Jenna Ortega and Jeff Garlin.
"Studio 666 is a perfect combination of all things I love," said the movie's director BJ McDonnell. "Rock, horror, and comedy all tied together in a very thrilling motion picture. I am so excited to have teamed up with the Foo Fighters to create an old school 'Band' movie. It's been years since we've seen something like The Beatles' Help!, The Monkees' Head, or KISS Meets the Phantom of the Park. Take that '60s / '70s old school band film fun, mix it with horror and Studio 666 is born! I am so ecstatic for audiences of film and music to come together and enjoy our film."
Ahead of Studio 666's release, Foo Fighters have unveiled a line of merchandise to tie-in with the horror-comedy.
T-shirts, mugs and badges emblazoned with the movie logo are on sale at Shop.FooFighters.com. You can also purchase a Dream Widow t-shirt and a blood-stained hedge-clippers!