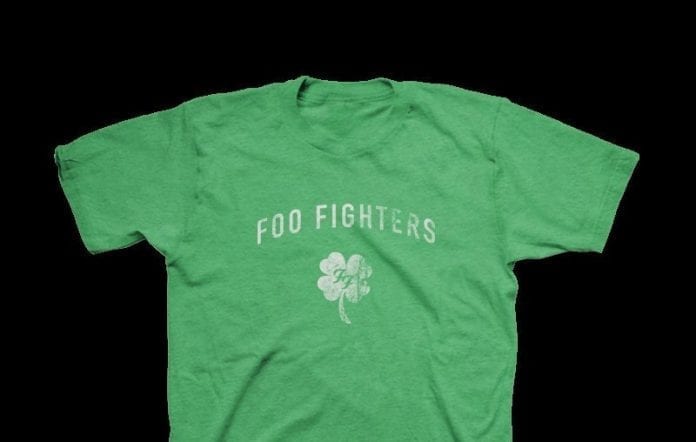 Top o' the mornin' to ya! from the American rockers Foo Fighters, the lads are getting prepared for Paddy's Day next month by releasing a few special edition t-shirts.
Yes, next month it will be all leprechauns, lucky charms and a distinct lack of snakes and to celebrate the day Foo Fighters are releasing three new tees.
Back in December 2014, the rockers sold limited edition Christmas jumpers featuring a scary rock n roll gingerbread man on the front.
There's a green shirt and a black one, both have a similar design, the green t-shirt has a shamrock and Foo Fighters written in white print, the black one has a shamrock and Foo Fighters written in green print.
The third tee is also green, it has Foo Fighters written in black, a rocker looking leprechaun with KISS like makeup, giving the trademark 'devil's sign' with his hands.
The t-shirts are selling for €18 and they're available for pre-order now. Buy them here and they will ship the week of March 2nd.
Foo Fighters are releasing the excellent music documentary series 'Son Highways' on DVD and blu-ray.
In the series, the American rockers document the making of their new studio album also titled Sonic Highways.
'Sonic Highways' will be released on DVD and blu-ray on April 7th and will be available for pre-order from March 9th. It features extended interviews with Barack Obama, Dolly Parton, Chuck D, the Black Keys' singer Dan Auerbach, Joan Jett, Fugazi and Joe Walsh.