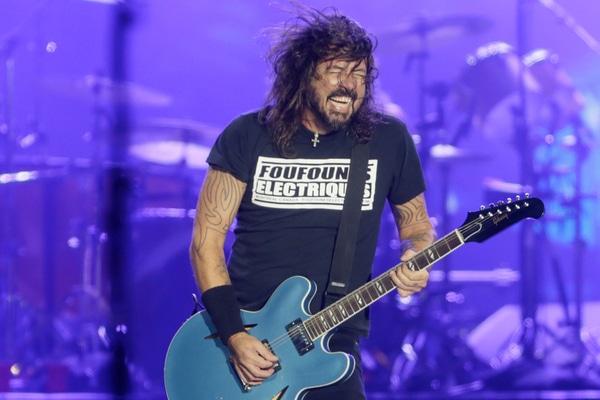 Foo Fighters have released a red band trailer for their upcoming Studio 666 "horror comedy" film.
Studio 666 is directed by BJ McDonnell and will hit the cinemas on February 25 via Sony Pictures UK. 
This film will also see Dave Grohl and co move to a new mansion in Encino to record a new album. This is a film which McDonnell also calls "Rock, horror, and comedy all tied together in a very thrilling motion picture". 
It also show Grohl as he "finds himself grappling with supernatural forces that threaten both the completion of the album and the lives of the band".
"Studio 666′ is gonna F**K YOU UP!"
The new trailer shows Dave Grohl attempting to introduce the latest teaser of Studio 666. However, he ends up stumbling over his words in a profane rant.
"Studio 666′ is gonna F**K YOU UP!", the whole band can be heard shouting. Footage also shows Grohl having his guts ripped out by aliens.
Warning this is gorey!
New Album To Go With Film
Following this, Foos frontman Dave Grohl also announced that he will release a heavy metal album in order to coincide with the release of Studio 666.
"And there's this song that, if recorded and completed, the fucking demon in the house is unleashed, and then, whatever, all hell breaks loose", he said.  "And we come in 25 years later to record, having no idea what happened 25 years ago, and I start becoming possessed by the spirit of the guy from 25 years ago and the spirit of the house". 
While he did not confirm the official release date for the album, Dave Grohl did promise to release it in conjunction with the film.
"Yes, I'll get it out for the movie. By Feb. 25, there will be a Dream Widow record", Grohl insisted. More on this report from Nova here.
Here's a reminder to keep your ears to the radio as our very own Clint Drieberg will speak to Dave Grohl at some stage!